Background: Most scalp reconstructions are done for the need to recreate a full-thickness scalp layer. Replacing a full-thickness scalp wound requires all layers of the scalp and must be done by either tissue expansion or rotation flaps of adjacent scalp or the microvascular transfer of distant tissue.
Most partial thickness scalp defects are missing some of the outer layers, most notably that of the skin. Reconstruction consists of skin grafting which can even be done when the defect is down to the bone. (after creating a vascularized tissue bed)
A far less common partial thickness scalp defect is when an outer skin layer is present but the underlying tissues are thinner. This can occur from avulsive injuries or resections where a subtotal scalp resection has occurred or been performed and then skin grafted.. Such a skin grafted scalp will often look deficient and sunken in, like a 'bite' has been taken from the skull.
Case Study: This 35 year-old male had a history of chronic scalp infections on the back of his head. They were so severe that it eventually required excision of all occipital scalp skin and coverage with a large skin graft. This solved his scalp infection issue and he remained infection free ever since. As much of a benefit as this scalp procedure provided it left him looking like he has a skull defect. The back of his head look deficient as if a part of his skull was missing.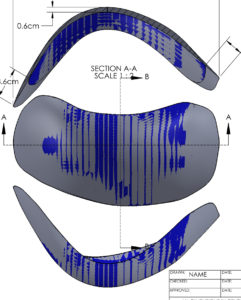 To rebuild back his head shape a custom skull implant was designed to push the scalp back out in an ear to ear coverage. A paper template was used to measure the length (24 cms) and height (16cms) of the occipital scalp defect from which a custom skull implants was designed.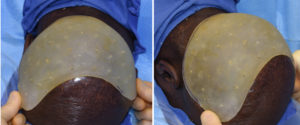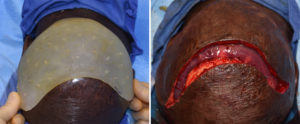 Under general anesthesia and in the prone position, an incision was made at the top edge of the skin graft-scalp junction all the way across. A full-thickness inferiorly-based scalp fall was raised down into the neck muscle and back over the back ends of the posterior temporal muscles/fascia. Th custom skull implant has multiple perforation holes placed throughout and the top edge beveled for a smoother fit. It was secured with multiple titanium microscrews and closed with dissolveable sutures. A small drain was placed on both sides.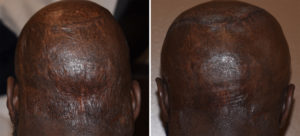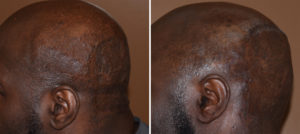 His head dressing and drains were removed the next day. His immediate result showed a normalization of his skull shape and no vascular compromise of the scalp flap.
Scalp contour defects can be treated by skull augmentation. Custom implants provide an assured and smooth soft tissue effect.
Highlights:
A partial thickness scalp defect that has an intact overlying skin layer can be reconstructed (augmented) with an underlying skull implant.
The design of a custom skull implant for an aesthetic scalp thickness deficiency is based on external measurements.
A limited full-thickness scalp flap can be raised to insert the wrap around skull implant.
Dr. Barry Eppley
Indianapolis, Indiana