Despite the best efforts at cleft lip repair, whether done as an infant, teenager or as an adult cleft lip revision, the ability to detect the cleft lip scar usually persists. This is most manifest in men because the thickness of the upper lip beard skin on both sides of the cleft lip scar make the hairless scar that much more apparent.
While cleft lip scar revision is the best method to minimize the width of the cleft lip scar, it does not always work as well as one would like. It can be very difficult to get a cleft lip scar that is narrow as one would like, no matter how many efforts are made to revise the scar.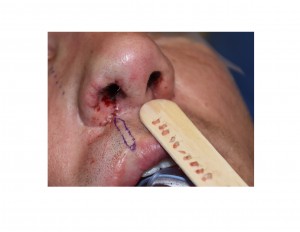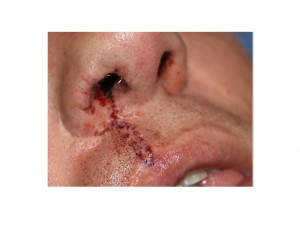 It is important to recognize that the cleft lip scar in a male has two fundamental deficits…lack of hair follicles and skin that is thinner and more atrophic. One simple method to address one of the deficits of the cleft lip scar is that of hair transplants. Placing small hair transplants (follicular extraction units, FUE) into he cleft lip scar not only adds hair growth to the scar but the presence of a follicular unit also has a rejuvenative effect on the lip scar. Whether the man ends up with a fuller moustache that crosses the cleft lip scar or merely ends up shaving (microdermabrasion) the cleft lip scar on a daily basis, the hair transplant helps with cleft lip scar camouflage.
When placing hair transplant into the cleft lip scar it is important to orient the hairs in a completely downward orientation that is nearly parallel to the surface of the skin. This will allow them to grow downward in the same direction as the rest of the upper lip hairs.
Dr. Barry Eppley
Indianapolis, Indiana