Muscular enhancement of certain body parts can be done through the use of synthetic implants. Everyone knows about breast implant augmentation although this is not a true muscular enhancement but a breast tissue enlargement. Historically the most recognized body implants were for the chest, buttocks and calfs. The number of such implants combined pale in comparison to the number of breast implants that are placed but that makes them no less useful.
The number of body implant surgeries that are performed have continued to increase over the past decade. Greater awareness and acceptance of body augmentations has fueled demand as well as improvement in  implant materials and surgical techniques. Body implants, unlike breast implants, are made of a solid but very soft and compressible silicone elastomer material. This makes them capable of being inserted through small incisions and to have a feel that is similar to what they intended to enhance…muscle. Because they are a completely polymerized non-liquid material they will never rupture, degrade or need to be replaced.With these better materials has come an expansion of body implants to new and innovative areas of augmentation. These have included such areas as the arms, shoulders and even the hips to create muscle prominences and increased curves.
Muscle implants are used to surgically build-out an underdeveloped area of muscle in the body. These muscle deficiences can be caused by a birth defect, a traumatic injury, or an aesthetic desire for body shape improvement. Aesthetic desires for body implants (pectoral, calf, arm implants) comes from an inability to build up the muscle adequately from exercise. There are also recent fashion and body image trends for an increased gluteal size. (buttock implants) Birth defects can also drive the need for implants and include club foot and Spina Bifida for calf implants, chest wall deformities from Pectus and Poland's syndrome for pectoral implants and Sprengel's deformity for deltoid implants.
An overview of old and new body implants includes the following.
PECTORAL IMPLANTS Male chest enhancement is done by transaxillary implant placement under the pectoralis major muscle but staying within the outline of the muscle. (unlike breast implants) They are available in different oval and more square shape forms.
BUTTOCK IMPLANTS Intramuscular or subfascial pocket placement in regards to the gluteus maximus muscle is used for implant location. I prefer the intramuscular location to reduce the risk of potential complications even if it poses size limitations (< 400ccs implant volume) and a longer recovery.
CALF IMPLANTS Being the smallest of all body implants, they have a cigar-type shape that are available in different lengths, widths and thickness. They may be used to build up the inside of the leg (medial head gastrocnemius muscle) or combined with outside of the calf augmentation as well. (lateral head gastrocnemius muscle)
ARM IMPLANTS The top (biceps) and bottom (triceps) of the arm can be build up for those men that either can't get enough muscle bulk by exercise alone or want to maintain a more muscular arm shape with less long-term exercise maintenance.
DELTOID IMPLANTS While there are no true shoulder implants, they can be made by either modifying existing body implants used for other areas or hand making the implants from performed silicone blocks.
HIP IMPLANTS Placing implants placed below the muscular fascia below the prominence of the greater trochanter of the hip can build out an otherwise straight leg line.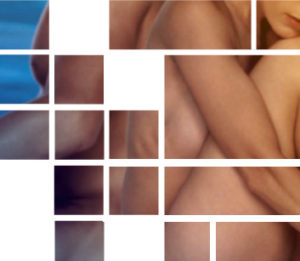 Body implant surgery is both safe and effective when done by a surgeon who has good experience with these  materials and has anatomical knowledge of the different and varied parts of the body where these implants go. While fat injection augmentation has a valuable role in the enhancement of certain body areas also, synthetic implants offer a permanent and assured solution to body augmentation that has the trade-off of an implanted material and a longer recovery.
Dr. Barry Eppley
Indianapolis, Indiana