Microtia is a congenital condition where all or major parts of the ear are missing. Two methods of microtia reconstruction have evolved using either one's own ribs or through the use of a synthetic framework. Autologous microtia reconstruction is done to using portions of the cartilaginous #7, 8 and 9 ribs to create the base framework of the ear. Alloplastic microtia reconstruction uses a synthetic performed ear framework made of a Medpor material that is simultaneously covered by a vascularized temporal fascial flap. Such ear reconstructions are usually done around ages 6 to 8 years old.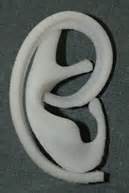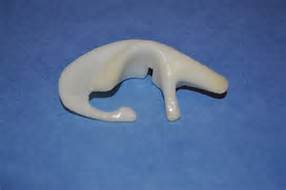 Both microtia ear reconstruction methods have their own unique advantages and disadvantages. The Medpor ear reconstruction framework offers the advantages of a well-shaped preformed ear framework and the avoidance of a donor rib scar and harvest site. Because it is a stiff material, however, it can feel fairly rigid. The rigidity of the wedge on the back part of a Medpor ear framework, which allows it to have good projection from the side of the head, can be a source of ear stiffness and rigidity.


To reduce the rigidness of a Medpor ear reconstruction, the wedge on the back part of the ear framework can be shaved down from an incision on the back of the ear. This is then filled with a dermal-fat graft placed into the space where the wedge of Medpor material was removed. Some slight projection of the ear reconstruction may be lost but the ear will have some flexibility when pressed on.
While many rib graft microtia reconstructions need projection and a more rigid graft placed behind it, a synthetic framework often needs the opposite. The preformed framework provides good projection but at the expense of ear stiffness. The ear is made of flexible cartilage that springs in and out and that is a feature that a plastic material can not do.
Dr. Barry Eppley
Indianapolis, Indiana