Despite great improvements made in the aging face and neck, the hands of the older female are often a giveaway for her age. The dorsal surface the hand undergoes a variety of aging changes at both the skin and deeper levels including fine wrinkling, loose skin, brown spots, and visible veins and extensor tendons. Hand rejuvenation can be done by a variety of synthetic injectable fillers as well as injected autologous fat.
In the April 2018 Online issue of the Plastic Reconstructive and Aesthetic Surgery journal, an article was published entitled 'Micro-Autologous Fat Transplantation for Rejuvenation of the Dorsal Surface of the Aging Hand'. In this clinical paper the authors employed a micro-autologous fat transplantation (MAFT) technique for the injections. This consisted of low pressure syringe harvest, concentration by centrifugation and injection by gun of small fat parcels into the dorsum of the hand in three tissue levels. The MAFT was done in 68 patients who received an average of 14mls for each hand. Average followup was almost three years with high satisfaction rates in almost two-thirds of the patients (59%) and satisfied rates in the remaining 40%.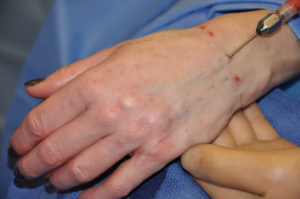 This study employs the micro droplet technique for centrifuge-concentrated fat injections.  While no specific volumetric measurements are made (or can be made) of the fat retained, a sustained improvement in the appearance of the hands is proof enough of its success. Whether the use of centrifuge is essential for concentrating the fat is not proven in this clinical study as I have seen other concentration methods work just as well in the hands.
Volume restoration to the back of the hands (hand rejuvenation) has multiple rejuvenative benefits from an improvement in skin texture to a deskeletonized dorsal appearance. It is an effective technique whose only complication I have seen occasionally is small lumps or irregularities of the injected fat.
Dr. Barry Eppley
Indianapolis, Indiana