Brow bone reduction is often aesthetically necessitated when the frontal sinus air cavities become too large. This is almost exclusively a male problem since the development of the frontal sinuses is highly related to levels of circulating testosterone and growth hormone during development. As a result, it is often associated with other strong facial bone features in men as well. Very strong brow bones due to frontal sinus pneumatization is almost never seen in women.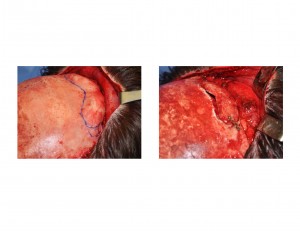 While brow bone reduction can occasionally be done by a burring technique, the thin cortex of the overlying brow bone does not allow for more than a few millimeters of reduction with that approach. More substantial brow bone reduction requires an osteoplastic flap technique whereby the bulging bone cover of the frontal sinus is removed, reshaped and then replaced. This can increase the amount of brow bone reduction by three or four times than of just burring the bone.
When it comes to brow bone reduction surgery, here are five things you may not have known about it.
Brow Bone Reduction and Browlift Surgery Are Related. The osteoplastic technique for making the brow bone less prominent requires an open incision and forehead flap turndown for exposure. Several types of browlifts also require an identical surgical approach through either a hairline or scalp incision. This also means that a browlift can be done with brow bone reduction if needed, which often is the case in Facial Feminization Surgery.
Brow Bone Reduction and Migraine Surgery Can Be Done At The Same Time. For those individuals that suffer from frontal migraines caused by supraorbital nerve compression, decompression of the nerve by stripping off the surrounding muscle and opening up the bony foramen can reduce symptom frequency and intensity. Working on the brow bones requires coincidental exposure of the supraorbital nerve, thus potentially solving an aesthetic and pain problem during the same operation.
Frontal Sinusitis Is Not Caused By Brow Bone Reduction. While the osteoplastic technique does expose the frontal sinus cavity, often not leaving the underlying mucosal lining completely intact. such exposure does not place one at increased for subsequent sinus infections. Almost every frontal sinus cavity that i have ever seen is completely healthy and no patient has ever reported a frontal sinusitis problem later.
Air Leaks Are Uncommon Sequelae from Brow Bone Reduction Surgery. By taking off the overlying bone and some mucosal lining with it, broad frontal sinus exposure does occur. But putting back the reshaped bone provides a near complete seal on most cases. When small openings around the replaced bone are seen, which is common, patching of them are done. This is accomplished by a variety of materials from temporalis fascia, bone cement or even bone wax. Despite these efforts, it is possible that extreme sinus air pressure (usually from blowing one's nose) can open up a small hole ('blow hole') right after surgery. This is seen by the filling up of the forehead with air. Time and avoiding blowing one's nose usually makes this a self resolving problem as the tissues eventually scar down.
Upper Forehead Augmentation May Be Needed When The Brow Bones Are Reduced. Some prominent brow bone patients have the opposite problem in the upper forehead. While the lower forehead may be too prominent, the upper forehead may be too recessed or sloped backwards. This can be simultaneously treated by building up the forehead above the brow bones with bone cement after the brows are reduced. The angulation of the forehead in profile should be assessed before surgery to avoid missing this aesthetic problem and the opportunity to simultaneously correct it. (the ying and yang of forehead reshaping)
Dr. Barry Eppley
Indianapolis, Indiana