Fractures of the lower jaw or mandible are one of the most common types of facial bone injuries. Based on the point of contact along the jawline and the amount of force it encounters, jaw fractures will often have standard patterns of how the bone breaks.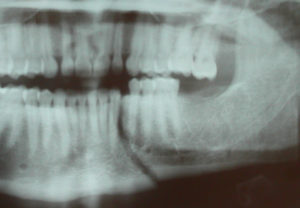 A parasymphyseal mandible fracture occurs between the chin and ramus (jaw angle) and in the location of the canine and premolar teeth. This is the point of primary force contact which breaks the bone in that area. It also transmits the force along the jawline  to the opposite side to the condylar region which often fractures as well The paired contralateral condylar fracture is often less being distant from the primary point of force contact. The pattern of a parasymphyseal fracture and a contralateral subcondylar fracture is a classic jaw fracture pattern that most typically results from being punched.
Repair of this fracture pattern often consists of a closed reduction of the subcondykar fracture and an open reduction and internal fixation of the parasymphyseal fracture. Initially the patient is placed into maxillomandibular fixation (jaws wired together) which is the closed reduction part as well as aligns the teeth for the parasymphyseal fracture repair.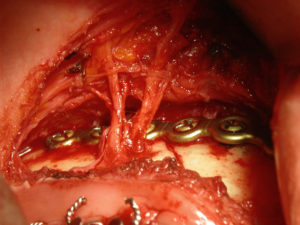 To avoid an external neck scar the parasymphyseal fracture can be approached intraorally. To do so it becomes necessary to work around the mental nerve, whose canal may be involved in the fracture line or very close to it. By carefully dissecting out all of the nerve branches and protecting them, the fracture can be successfully reduced and rigidly held together for rigid bone stabilization.
Dissecting out the mental nerve branches will cause some profound numbness of the lower lip and the chin due to a traction nerve injury. But with intact nerve branches most of its sensation should eventually return.
Dr. Barry Eppley
Indianapolis, Indiana