Background:  V line surgery, sliding genioplasty and chin wing osteotomies all place the intrabony course of the inferior alveolar nerve at risk of injury. While the exit of the nerve from the bone at the mental foramen can be seen during surgery, the bone cut must be lower than the foramen level. The nerve has been well documented to loop downward before coming out of the bone. Thus recommendations for bone cuts 5 to 6mms below the mental foramen level are recommended to minimize the risk of nerve transection.
If the nerve becomes exposed by a bone cut symptoms such as numbness, pain and pressure sensitivity are possible. While numbness gets cited as the most severe of inferior alveolar nerve injuries, a bone cut that leaves the nerve exposed by bone removal or bone repositioning also exposes it to pressure sensitivity. Without protection of the bone pressure can be directly applied to the nerve along the new inferior border. This can send shooting sensations along its path of innervation to the lip and chin or cause discomfort if it has formed a neuroma.
V line restoration is a procedure where a custom jawline implant is designed to partially or fully restore the jawline that has been removed. This always places material along the inferior border as that is where the bone cut has removed a vertical section of jawbone. The placement of such a jawline implant may provide coverage of an exposed inferior nerve if it exists.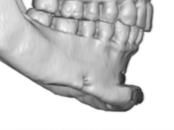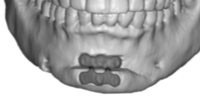 Case Study: This female has a prior history of V-line surgery (vertical angle reduction which came forward and connected with a sliding genioplasty) which leave her with some asymmetries as well as being over resected. She developed pressure sensitivity of the right inferior alveolar nerve which was explainable by the level of the bone cut.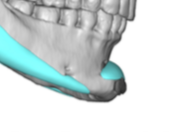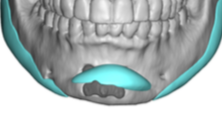 Custom extended jaw angle implants were designed to address the amount and location of the jawline bone restoration that she desired. It so happened that the right jawline implant extended across the inferior alveolar nerve area. Although the perceived benefits were asymmetry correction not any nerve protection.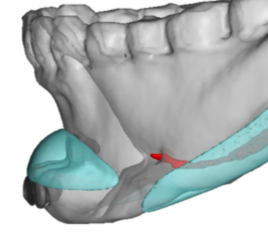 Once the jawline implants were placed and at a 2 month followup, she reported that she no longer had any pressure sensitivity in the right inferior alveolar nerve area. In looking back at the see through design images it could be appreciated that the anterior edge of the implant covered the area of inferior nerve exposure.
While the role of custom jawline implants in V line correction is bony restoration, covering over an exposed inferior alveolar nerve can provide a secondary benefit. 
Case Highlights:
1) V line surgery does not place the inferior alveolar nerve at risk with the anterior bone cut.
2) Cutting the inferior alveolar nerve in its bone canal runs the risk of numbness and pressure sensitivity.
3) A custom jawine implant that covers the exposes nerve in this case eliminated the pressure sensitivity…an unexpected benefit.
Dr. Barry Eppley
Indianapolis, Indiana