Background: Excessive flatness of the back of the head can affect women and men equally. While shorter hairstyles reveal the shape of the back of the head most clearly, women with longer hair can be similarly affected and use various hairstyling methods to camouflage it.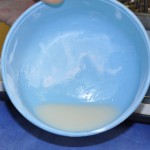 There are various materials by which the back of the head can be built up. Each has their own distinct advantages and disadvantages. PMMA bone cement has been used for many decades for various forms of inlay and onlay cranioplasty. As an onlay, PMMA is most commonly thought of as a forehead augmentation material. But it can work just as well on the back of the skull as it does on its front side.
Case Study: This 35 year-old male had long been bothered by the flatness of the back of his head. It had been present since birth and he felt that the shape of the back of his head was unusual and out of proportion to the rest of his skull shape. Building up the back of his head would help give him a more normal shape.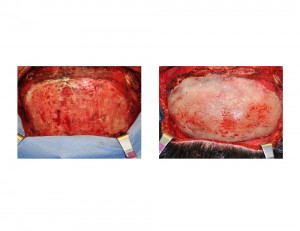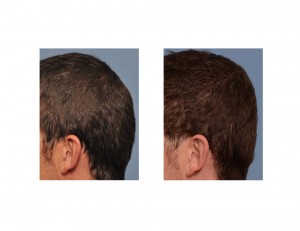 Under general anesthesia, am 11 cm long incision was made across the top of his head near the back. The occipital skull was exposed and the flatness at its superior aspect evident. Three small 1.5mm screws were placed with their heads above the surface of the bone for cement anchorage. Using 60 grams of PMMA cement mixed with antibiotic powder, the putty was applies and shaped until set to give the back of his head a more rounded shape. The scalp incision was closed with resorbable sutures.
PMMA bone cement remains an historic and proven method of occipital augmentation for treatment of moderate degrees of back of the head flatness. Because the cement must be placed as an initial putty and then shaped after application, it requires an open approach with careful attention to its symmetry of shape and edge transitions. Because the cement is initially 'soft' it has a limited ability to create much scalp push. This limits the amount that can be placed to 60 to 90 grams through more limited scalp incisions and flap elevations.
Case Highlights:
1) Flatness of the back of the head can be corrected by a variety of onlay augmentation methods.
2) The use of PMMA bone cement is the most cost effective form of occipital cranioplasty.
3) PMMA cement is useful for small to moderate amounts of occipital augmentation requirements.
Dr. Barry Eppley
Indianapolis, Indiana