Background: A flat back of the head is the most common aesthetic skull deformity in my experience. It may present as a plagiocephalic appearance with a one-sided flatness or a brachcephalic appearance with an overall (bilateral) flatness. It is most common to see a combination where one side is flatter but the patient wants both sides fuller as well. Many more men present for flat back of the head surgery than women for the greater visibility of the back of their head due to short hair or a shaved head.
Int designing a custom skull implant there are obvious shape and thickness differences based on whether it is designed for a unilateral or bilateral flat back of the head. Such shape differences can have implications for the method of insertion and placement. Since such skull implants are never placed by a major coronal scalp incision the need to keep the incisional length small always make their placement challenging.
Most skull implants are placed by a rolled technique in which they undergo a temporary shape deformation to pass through the small incision. While that technique works most of the time, a very thick implant may make that method unsuccessful. When this situation presents an intraoperative innovation is needed to get the skull implant placed.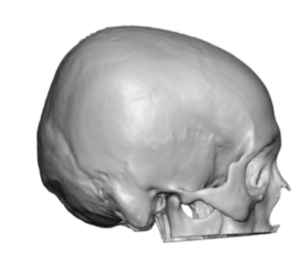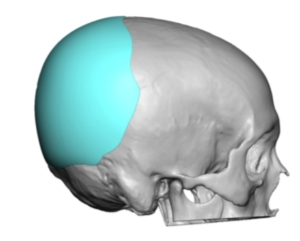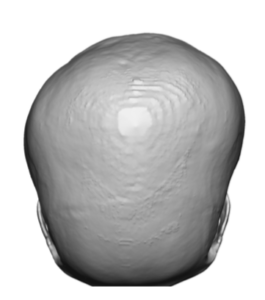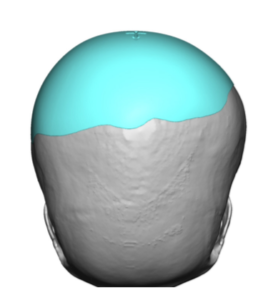 Case Study: This male was bothered by a flat back of his head which was greater on the left side than the right. A custom skull implant was designed to increase overall projection with a maximum thickness of 13mm and a total volume of 134ccs.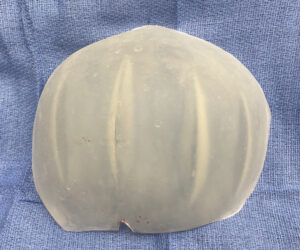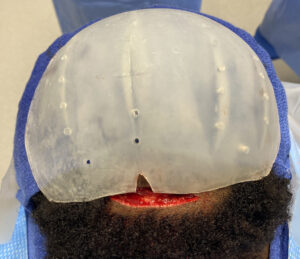 Under general anesthesia and in the prone position a 9 cm long low horizontal scalp incision was made over the nuchal ridge after shaving a small strip of hair. The custom skull implant was initially attempted to be inserted using a rolled technique but could not pass through the incision.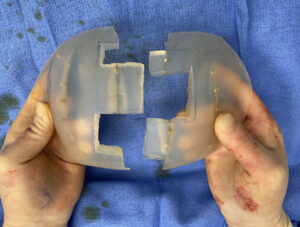 A geometric split of the implant was then done down its midline. The two pieces of the implant were inserted separately and then reassembled by snapping them together.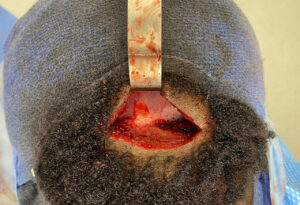 The midline was confirmed for positioning (inverted V notch) and no screw fixation was needed due to the extremely tight fit.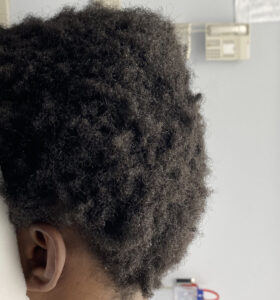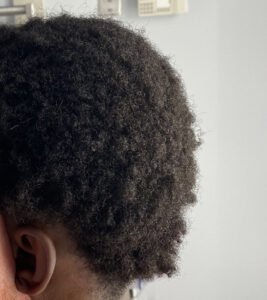 It may initially seem adventurous to split a whole skull implant into two pieces but the mother of invention is always necessity. It is a technique that I have found works well even though I ideally like to keep if possible the implant as a a single piece.
Case Highlights:
1) A flat back of the head requires a custom skull implant whose insertion technique is based on implant shape and thickness.
2) With back of head skull implants that are more wide than tall and thick centrally a geometric split technique may be needed for placement in an effort to keep the scalp incision as small as possible.
3) To maneuver the two piece implant around once inside to get it to snap together the extent of the subperiosteal dissection must extend beyond the footprint of the implant.
Dr. Barry Eppley
Indianapolis, Indiana