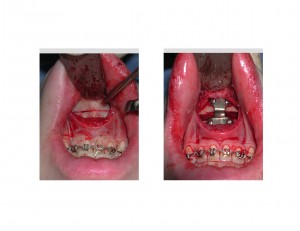 Background: Chin augmentation can be done by using either an implant or actually moving the chin bone.  A chin implant is by far the most common genioplasty method because it is simpler, less invasive and easily reversible. While the sliding genioplasty method can be done alone, it is almost always used when other facial bone surgery is being done. (i.e., orthognathic surgery) Its use is also highly influenced by the training and specialty of the treating surgeon.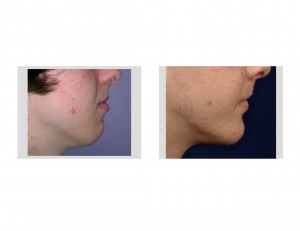 While a sliding genioplasty can provide a variety of dimensional changes to the chin, such changes do not always produce a pleasing outcome. Just like chin implants, the new chin can be unsettling because of an unfamiliarity of the 'new' face. Preoperative computer imaging can help reduce this risk significantly but it can rarely still occur. A sliding genioplasty can also cause a cascade of symptoms from numbness and tightness of chin tissues that did not exist before surgery. While such symptoms usually resolve within months of the surgery, for some they may not go completely away and their persistence may eventually become intolerable.
Reverting the chin back to its original preoperative position, or to just make it less advanced or lengthened, can be done through a reversal sliding genioplasty procedure. This is merely repositioning the chin bone by making a new osteotomy cut. But in considering to do so, it is important to look at the type of indwelling fixation hardware used (by x-ray) and what soft tissue impact may ensue. These factors along with how likely the aesthetic outcome may be achieved will determine whether a reversal sliding genioplasty is worth it.
Case Study: This 52 year-old male had a sliding genioplasty done seven years ago as part of a mandibular osteotomy to fix a malocclusion. He never really liked how it changed his chin and he had numerous persistent soft tissue symptoms from it including a tight chin and a lower lip sag from it. In addition, he could feel the notch in the jawline at the back end of the original osteotomy lines were the cuts went through the inferior border. After much thought he finally decided to have it reversed.
Under general anesthesia, an intraoral approach was done using his original vestibular mucosal incision. The chin bone was exposed and the lower end of a metal fixation plate and screws were removed. (the upper end of the plate was grown over with bone) An osteotomy cut was made with a saw at the obvious stair step shape in the chin bone.  Once the bone was downfractured it was able to be pushed back until the outer shape of the chin was flush across the osteotomy. After securing with 1.5mm plate and screws, a mentalis muscle resuspension was performed as well as V-Y mucosal lower lip advancement/closure.
A reversal sliding genioplasty is performed similarly to the original advancement. Preoperative attention needs to be paid to what type of original bone fixation hardware was used to ensure it will not be problematic to remove or is in the way of the new osteotomy cut. Since the chin tissues are stretched forward what happens to the attached soft tissues along the jawline and in the central neck needs to be considered.
Case Highlights:
1) A sliding genioplasty is one method of chin augmentation that creates a natural effect by moving the chin bone below the level of the front teeth.
2) While a bony genioplasty usually leads to a significant chin augmentation effect and a satisfied patient, some can find the effect too much and may yearn for a return to their former self.
3) A sliding genioplasty can be reversed months to years later by recutting the original osteotomy line and setting/sliding the bone back.
Dr. Barry Eppley
Indianapolis, Indiana