Laser resurfacing is a long-standing treatment that can have a profound rejuvenative effect on wrinkled and sun damaged facial skin. By burning off the top layer of skin and allowing it heal, a fresh skin surface is created with fewer surface imperfections.While effective, it is associated with a significant healing time, discomfort and  temporary facial redness. This has been improved by changing from a fully ablative laser treatment, which treats the entire skin surface, to a fractional approach.
Fractional laser resurfacing treats a portion or fraction of the skin surface's  (usually 5% to 22%) but with deeper channels cut down into the thickness of the skin. This has the dual effect of shortening healing time due to less injured skin surface and causing greater collagen regeneration and tightening. But despite the advantages and reduced recovery time of the fractional laser, adjuvant treatments are still sought to reduce healing time and facilitate a faster recovery. One such treatment is that of platelet-rich plasma. (PRP)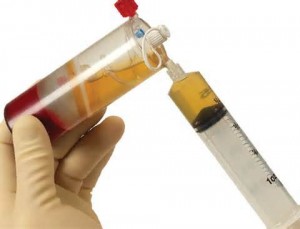 Platelet-rich plasma (PRP) has been used for many applications in various surgical fields for its ability to improve wound healing, hemostasis, and graft survival. It is a blood concentrate that is full of platelets. Platelets contain many different growth factors and cytokines in high concentrations which serve as the theoretical basis for the use of PRP in tissue repair. Studies are mixed as to its true effectiveness across a broad spectrum of applications. But the superficial nature of laser resurfaced skin seems like a good application for it.
In the Online First edition of the November/December 2014 issue of JAMA Facial Plastic Surgery, a study was pubished entitled 'Evaluation of the Effect of Platelet-Rich Plasma on Recovery After Ablative Fractional Photothermolysis'. This was a blinded study using small human forearm test sites that were treated with fractional laser treatments at consistent depths in both arms. The treated sites were immediately treated with either topical PRP or saline. (control) Significant improvement was seen in PRP-treated arms compared to controls in all 15 treated patients. Improvement was defined as the erythema rating of the untreated arm minus the erythema rating of the PRP-treated arm. Patients noticed a reduction in the amount of redness, swelling, itching and pain in the PRP-treated sites.
These study results suggest that PRP can improve the healing rate of facial laser resurfacing sites. It presumably does so by creating a faster rate of skin cells growing across the injured skin surface through earlier induction of cell turnover. It is interesting that such positive results were seen with just one application immediately after the laser resurfacing. Given the reduced cost to acquire a single concentrate of PRP today, it should enjoy broader useage.
Dr. Barry Eppley
Indianapolis, Indiana