Temporal augmentation has become a popular facial area of augmentation due to injectable fillers and fat. While these injectable methods offer a non-surgical treatment method, their volume retention and smoothness of contour is far from assured.
Temporal implants offer a facial augmentation method that is both permanent and straightforward to place. It is an implant unlike other facial implants as it is intended to augment muscle and not bone. As a result, the implant is very soft and flexible, feeling very much of the consistency of muscle. Another key element to its success is that the implant is placed in the subfascial position and at the subcutaneous level. Sitting on top of the muscle and under the fascia avoids any visible outline of the implant which would occur with eventual soft tissue contraction around the implant had it been placed just under the skin.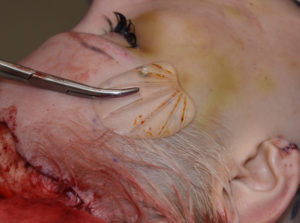 To place temporal implants under the temporalis fascia, the typical approach is a small vertical incision placed back in the temporal hair. This allows easy access to the deep temporalis fascia which is entered through an additional incision in it. But there are other access incisions through which these implants can be placed. One of these is a hairline incision which is commonly used in browlift surgery. Coming from above, an incision in the temporalis fascia is made superiorly through which the implant pocket is developed and the implant placed.
Temporal implants can be used in conjunction with a browlift for a more complete forehead and temporal rejuvenation. The incision for the browlift provides direct access to the subfascial temporal pocket.
Dr. Barry Eppley
Indianapolis, Indiana