A bony ridge that runs down the midline of the head is known as a sagittal crest. This is a palpable raised ridge of bone that when high enough can cause a peak-shape to the head from the front view. The normal more convex shape off the head becomes more triangular shaped. This is most commonly an aesthetic concern in the male that either has very short hair or shaves their head.
Reduction of the sagittal crest skull deformity is done with a burring technique. Using a high speed handpiece and carbide burr, the bone is shaved down to a smooth contour. The bony ridge is thicker than normal skull bone so it can be safely reduced. But because this is an aesthetic deformity thoughtful consideration must be given to the incision needed to do the burring.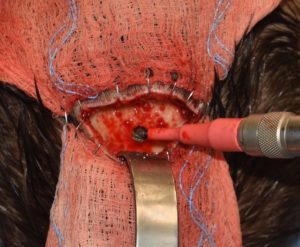 Working through a small scalp incision using a high speed handpiece safely requires protection of the surrounding hair and skin edges. This is best done by stapling gauze sponges along the edges of the scalp incision as well as placing a rubber guard over the length of the shaft of the burr. This prevents any risk of hair getting caught up in the rapidly rotating burr or its shaft. It is also important to only operate the handpiece when totally inside the subperiosteal tissue tunnel along the bony sagittal ridge.
Sagittal crest skull reduction can be done both effectively and safely through a fairly small scalp incision. This incision is usually placed perpendicular to the sagittal crest. In posterior sagittal crests the incision is placed on its most posterior end. But in long or more extensive sagittal crests the incision is placed at its midpoint to provide equal access to both ends of the bony deformity.
Dr. Barry Eppley
Indianapolis, Indiana