One aesthetic condition at the penile-scrotal junction that can occur is webbing. Normally there is a sharp near 90 degree angle between the shaft of the penis and the frontal surface of the scrotum. But when excessive skin develops a turkey neck or web appears between these two structures, hence the term penoscrotal webbing.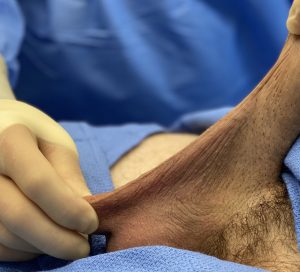 There are varying degrees of penoscrotal webbing or size of the web. In smaller webs a Z-plasty alone may be sufficient to resolve it. But when the web becomes larger, covering much of the shaft of the penis and way down onto the scrotum, the use of a z-plasty technique will not work as tissue rearrangement alone is not adequate.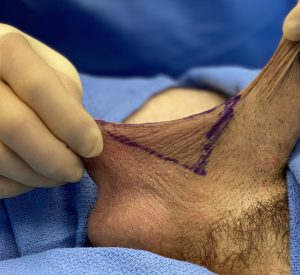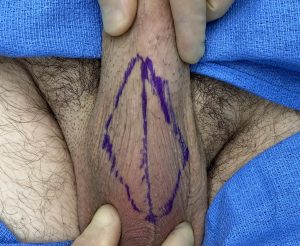 In such large webs what is needed is resection of the excessive skin that makes up most of the web. This is done by marking out an equilateral triangle on each side of a line drawn down along the top of the web. An incision is initially made down the center of the height of the web. Skin flaps are raised on each side out close to the triangular marks. Perpendicular skin cuts are then made on each side bisecting the triangle into two equal triangles on each side…but not the whole way to the apex of the marked triangle. The excess skin is then removed by excising the two smaller triangles of skin on each side which then allows a vertical line of closure.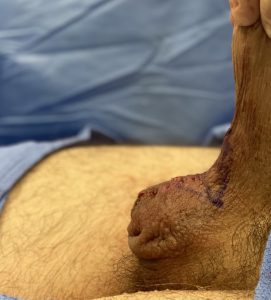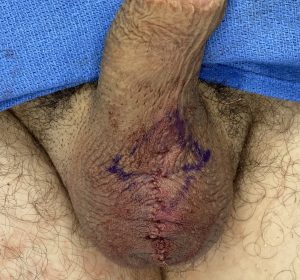 The reason not to go all the way to the apex of the triangle with the skin cut that bisect the triangle in each side  is to avoid over resection. If this closure is too tight from over resection of skin it creates the potential for a tight band of scar contracture along the line of closure. Should this be a concern during the closure a s small z-plasty can be done at the penoscrotal junction to prevent this potential issue.
Penoscrotal webbing occurs for a variety of reasons from an overdone circumcision to lrhe amounts of weight loss. Unlike a webbed scar contracture which represents a tissue deficiency, penoscrotal webbing represents the converse…tissue excess. Thus excision is the corrective approach with the importance of placing the scar line in the most favorable location. The midline raphe of the scrotum is the ideal location for most of this scar line as it heals exceptionally well with minimal scarring.   
Dr. Barry Eppley
Indianapolis, Indiana