A sliding genioplasty is a very versatile chin reshaping procedure that has been used for decades. In elective chin augmentations it is the alternative option to the use of a chin implant. Although chin implants are by far more commonly done in a ratio of at least 20:1 if not greater. While chin implants are a simpler procedure they are not appealing to everyone nor are they always the best choice for every type of chin deficiency.
A sliding genioplasty is usually best done for younger patients who have significant chin deficiencies. There also is a much higher tendency to  them at the time of orthognathic surgery when other facial bones are being manipulated as well. In larger chin deficiences moving of the bone has less potential for any long-term problems than does an implant.
The limits of how far forward a sliding genioplasty can move the chin horizontally is a function of the thickness of the chin bone. It is important to maintain some bone contact between the upper and lower chin segments, meaning the back edge of the downfractured chin segment should at least touch the front edge of the chin bone above it. (and be stabilized by plate fixation)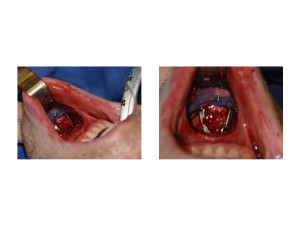 But in some larger chin deficiencies even maximal forward chin bone movement may still leave one with less than an ideal profile change. In these circumstances, whether recognized during the initial sliding genioplasty or afterwards, the solution can be a chin implant. A chin implant can be placed on the front edge of the sliding genioplasty to gain an additional 3 to 5mms of horizontal chin projection. An extended anatomic chin implant is used so that its wings cover the step off area on the back side of the osteotome line. It is critically important that the chin implant is secured by screw fixation to the sliding genioplasty segment.
While chin implants and sliding genioplasties are traditionally thought of as being mutually exclusive, they do not have to be. In need of extreme amounts of chin projection, the combination of a sliding genioplasty with a chin implant overlay can be a useful chin augmentation strategy.
Dr. Barry Eppley
Indianapolis, Indiana