Temporal implants offer a permanent solution to numerous aesthetic deformities/ deficiencies of the entire temporal region. Standard temporal implants were developed to treat the non-hair bearing anterior temporal region which is always the most visible. Both subtotal and total temporal implants exist for this area.
Traditionally anterior temporal implants have been placed through a small incision placed behind the temporal hairline. This direct access approach is the logical incision choice given that it provides the shortest path between the incision and the implant recipient site. In most cases this incision location heals well and leaves an inconspicuous scar even in the short hair of the male patient.

But the temporal hairline incision location can be a source of concern for some patients and there is no guarantee as to how inconspicuous the scar may ultimately be. As a result alternative incision locations can be used. The postauricular sulcus of the ear is one such option. With an incision located at the top of the back of the ear, even temporal implants of larger size can be placed. While the incision is just a bit further back and lower than the more anterior hairline approach, it is not that much more distant from the implantation site.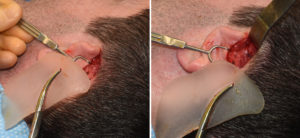 Once the incision is made dissection is carried straight down to the deep temporal fascia. This is incised and the subfascial pocket developed with blunt instrument dissection. The implant is placed on a hemostat and is ready for insertion.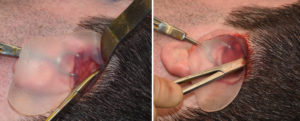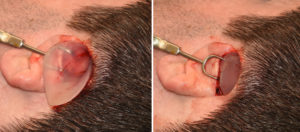 It is important to know that the implant will always be bigger than the incision which is where its soft flexible material property is important. The implant will need to be inserted in a rolled shape. With a retractor lifting up the fascia the rolled implant is passed underneath.

Once the implant is largely inserted the retractor and clamp are removed. The remaining visible portion of the implant is pushed in from behind. Then from the outside the implant is massaged into position with emphasis on making it go to the anterior portion of the created tissue pocket. External digital manipulation is done to check with implant position and all of its edges to make sure it is completely unrolled and creating the desired external effect.
The postauricular sulcus incision has become my standard approach today for any type of temporal implant placement. The traditional anterior hairline inciseon is only used in cases where a temporal implant revision may be needed and the postauricular sulcus incision is too distant or restrictive.
Dr. Barry Eppley
Indianapolis, Indiana