Thigh implants offer aesthetic augmentation of the upper leg through subfascial implant placement of the biceps femoris muscle. This is the single largest muscle of the anterior thigh and thus creates the best opportunity for increased thigh size and definition by alloplastic insertion.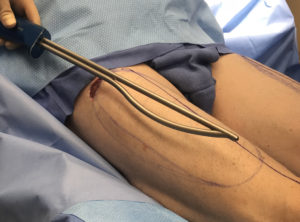 Like all implants it requires a method of pocket dissection that is both effective and not overly traumatic. Being the largest implant by surface area that is placed in the body due to the length and width of the biceps femoris muscle, there are no instruments that are made for this dissection length. I have found that the one instrument that is very effective is the Lockwood dissector.
Thigh Implant dissection Dr Barry Eppley IndianapolisThis long blunt dissector, up to 38cm in length, provides a smooth and rapid method of pocket dissection in the thigh as illustrated in this video.

The long and wide subfascial pocket that his free of any bands or attachments allows for a smooth thigh implant insertion. Rolling the implant for insertion allows it to pass through a relatively small 5 cm upper thigh incision. A well dissected subfascial pocket will allow the implant to unfurl fully as it is placed at its full length.
Dr. Barry Eppley
Indianapolis, Indiana