A tummy tuck is a well recognized body contouring operation because it has been around for many years. It is generally perceived as a hip to hip excisional and tightening abdominal operation as it only affects the front side of the torso. The term 'body lift' however is less well defined in the eye of the patient and can be open to interpretation.
It is recognized that a body lift is more than just a tummy tuck but how much more can be debated. It is an operation that is closely associated with managing the abundant loose and hanging tissues in the extreme weight loss patient, whether the weight loss was surgically induced or not. In this context, a body lift is a circumferential or 360 degree operation removing tissues completely around the waistline.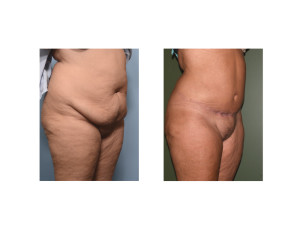 But a modification of the body lift can be used in non-weight loss patients. Rather than going completely around the waistline or 360 degrees, the excision extends about halfway between the spine and the side of the waist. (270 or 300 degrees) This captures more loose skin that might otherwise not be adequately addressed by liposuction. This extended skin excision is best done in patients with poor quality skin with little contractile ability around into the back, when a large skin rolls extends into the back and/or when sagging skin exists over the outer thighs.
In the February 2016 issue of the journal Plastic and Reconstructive Surgery, an article was printed entitled the 'Cosmetic Body Lift'. In this paper the author reviewed 72 patients over a ten year period who had a body lift defined as a  270 degree extended lipoabdominoplasty. (tummy tuck) The amount of liposuction aspirate removed was just over 3,000cc. Complications included a near 3% incidence of seroma (drains were used),  a 4% infection occurrence, and skin necrosis in 4%.  No hematomas occurred. One patient developed a deep vein thrombosis. (DVT) Secondary revisions were done in 18%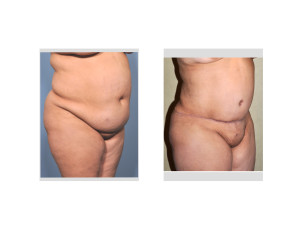 This series demonstrates that the body lift procedure in non-weight loss patients can be done safely and with a similar low rate of complications as that of standard tummy tuck. The critical question for most patients who may benefit from having this 'bigger' tummy tuck is whether the extra scar length is perceived as a good trade-off.
Dr. Barry Eppley
Indianapolis, Indiana