Custom designing of  implants for face is an evolving technology that is gaining traction for an increasing number of aesthetic clinical applications. Historically a variety of standard facial implants existed that were developed for common and modest aesthetic facial enhancements. But when more significant problems were encountered, such as the need for larger augmentations or when facial asymmetries exist, the approach was to try and make standard implant shapes and sizes work.  Besides trying to make an implant work for a purpose in which it was never intended, surgeons would 'eyeball' the problem both before and during surgery. It is easy to see why the combination of guessing about the anatomy of the problem combined with inadequate tools to treat it can lead to poor aesthetic results and a high rate of revisional surgery.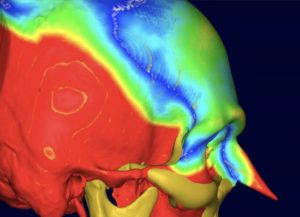 With 3D CT imaging the need to guess as to the location and extent of anatomic facial deficiencies and asymmetries has long past. Such imaging can identify the intricacies of bone shape, effects of prior surgery and any indwelling implants or hardware. When implants are indicated the ability to preoperatively design them based on a true understanding of the shape and dimensions needed to best fulfill the patient's aesthetic needs can be done. While once limited to cases of facial reconstruction 3D designing is now used to create facial augmentation outcomes with implant forms once thought of as just theoretical.
While in aesthetic surgery cost is always an issue for patients to consider, such technology has become available at reasonable rates that make it applicable in all forms of aesthetic facial surgery. It is far better to spend a little more money up front with a custom facial implant surgical plan that is better prepared and more likely to be successful. While revisional surgery is always a possibility in any elective aesthetic endeavor, using standard facial implants for more than what they are designed to do is a recipe for the need for revisional surgery.