Rejuvenation of the aging face has well established methods for correcting the upper (browlift) and lower face (lower facelift/necklift) that produces consistent and satisfying results. But the face does not age in just individual subunits and the midface has similar aging issues that are uniquely different. Sagging cheeks, lower eyelid hollowness and lines and folds under the eyes present challenges for successful rejuvenation.
The development of midface rejuvenation techniques has historically lagged behind that of the upper and lower face. Only in the past decade has the concept of midface lifting emerged. The vector of the midface lift is different than that of a facelift being more vertical than oblique in orientation and more closely resembles the direction of a browlift. But it has been associated with significantly more complications and dissatisfaction than either browlifts or facelifts.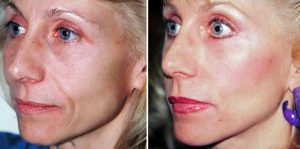 The factors that contribute to midface rejuvenation complications are several fold. First, most midface lifting techniques go through the lower eyelid and require resuspension after the tissues are lifted. This places the lower eyelid at risk for sagging or ectropion due to the tension placed on it and the very delicate suspension system of the lower eyelid which is easily disrupted. Secondly, where to attach the lifted cheek tissues to is limited and adequate bony support may be lacking.
As a result of this midface conundrum, a wide variety of open and endoscopic midface lifting techniques has developed. There is no consistent midface rejuvenation technique and this has lead to a lot of confusion on the part of both surgeons and patients alike.
To aid surgeons in midface analysis and in the selection of the most successful rejuvenation strategy, a paper on this topic published in the March 2013 issue of the journal of Facial Plastic and Reconstructive Surgery. A retrospective review was done on 150 patients who had midface rejuvenation procedures done by a single surgeon. The procedures included cheek implants, fat injections, limited and full midface lifts and facelifts. The vast majority were women (93%) with an average age of 51 years as would be expected. About one-third of patients had more than one treatment for their midface aging. Patient dissatisfaction in this study was 14%. Fat grafting alone had the highest rate of dissatisfaction of all treatments. The rate of patient dissatisfaction was associated with malar hypoplasia (skeletal deficiency) and loss of skin elasticity.
What makes midface rejuvenation unique from a facelift is that the degree of skeletal support is significant. No matter how well the cheek tissues are lifted, failure to achieve an aesthetically pleasing or a sustained result is doomed if the cheek bone does not have adequate projection to support it. The use of cheek volumizing through implants is needed in such cases. When the cheek skin has poor elasticity, pulling up alone again is inadequate and adding skeletal support needs to be considered.
Dr. Barry Eppley
Indianapolis, Indiana