Undereye hollows are a common periorbital aesthetic concern. They can occur congenitally due to lack of infraorbital rim development or occur naturally from aging changes. They are commonly and typically effectively treated by injection techniques using synthetic fillers or fat.
But not all undereye hollow patients achieve satisfactory improvement despite injector expertise or material. This raises the question as to what surgical procedures would be effective. The application of a wide variety of graft and implants have been used for the tear troughs/undereye hollows and each has their advantages and disadvantages.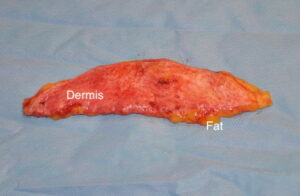 In the April issue of the journal Aesthetic Plastic Surgery an article was published this topic entitled 'Dermal Onlay Grafts: A Rescue Procedure for Secondary Inferior Periorbital Hollows' In this paper the authors describe their surgical technique and experience using dermal-fat grafts (what they call dermal onlay grafts) in the treatment of refractory periorbital hollows. In thirteen (13) patients over a ten year period who had prior injectable fillets or fat injections with poor outcomes were treated by the open application of autologous harvested dermal fat grafts laid over the infraorbital rims. 
Over an average nine month followup period, eleven (11) of the thirteen (13) patient were satisfied with their periorbital hollow effacement. (85%) One patient has persistent infraorbital nerve dyesthesia which improved without surgical intervention.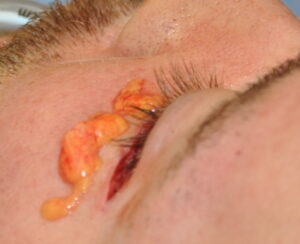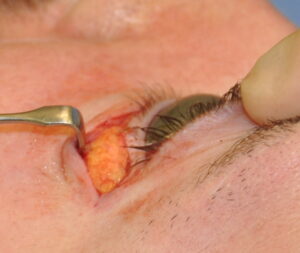 Open fat grafting to the lower eyelid has been done before with the always unknown question of how much of the fat graft volume persists. In my experience in the face with dermal fat grafts they typically have a high rate of volume persistence when not placed into tight tissue spaces. In using another source of fat grafting (buccal fat) it has an excellent persistence although it is a donor source that has to be harvested for a concurrent aesthetic purpose. But it is a scar free donor site.
Dr. Barry Eppley
Indianapolis, Indiana