Background: While jawline augmentation is most commonly associated with men, it is gaining aesthetic significance in women as well. A strong jawline is historically associated with increased masculinity. Women are more associated with softer and more recessed chin positions and jawline shapes. But the contemporary female jawline is now desired to have a more definitive jawline with increased angularity particularly at the posterior jaw angle area.
The one jawline dimension that is the hardest to change in both men and women is that of its vertical dimension. Short of orthognathic surgery to correct a deep bite, vertical augmentation with implants is needed to lengthen the lower face. But no standard chin or jaw angle implant provides any substantial vertical elongation. And lengthening the entire jawline as a single unified structure by bony movement requires the chin wing osteotomy with its own set of aesthetic issues.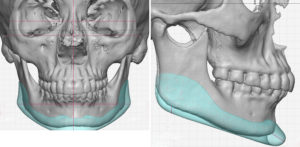 Case Study: This 26 year-old female presented with a history of injectable fillers to her chin to correct a significant chin deficiency. Despite multiple ccs of filler she still had a horizontal chin deficiency. Equally pertinently is that her lower jaw was vertically short compared to the upper two-thirds of her face. A custom jawline implant was designed to both vertically lengthen her entire jawline from angle to chin as well as provide horizontal chin augmentation.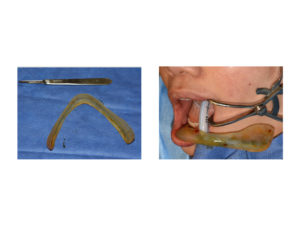 Under general anesthesia the custom jawline implant was inserted through an intraoral approach. Three intraoral mucosal incisions were used including an anterior one below the front teeth and two posterior ones behind the second molars. It was inserted as a single piece passing it under the mental nerves from the chin area back to the jaw angles.


Her immediate after surgery results showed a substantial improvement in the fullness of her lower face. Her chin has better projection and her jawline back to the angles was more visible and defined.

Custom jawline implants in females can be done just as it is in men. The difference is that they are often smaller in overall size with less dimensional augmentation. Creating a sharper and more defined jawline, not necessarily a substantially bigger size, is their usual focus. The exception is in the vertically short jawline where the lower face is disproportionately smaller than the upper two-thirds. In these cases vertical jawline lengthening needs to be done and pull down and out the lower third of the face.
Highlights:
1) Custom jawline augmentation for women can be done as successfully as that in men.
2) For vertical lengthening of the jawline in women only a custom jawline implant will suffice.
3) Most women get smaller custom jawline implants which may allow for a complete intraoral placement approach.
Dr. Barry Eppley
Indianapolis, Indiana