Background: The natural oblong and round shape seen in many pictures and diagrams of the skull is not enjoyed by everyone. Many people do have various lumps, bumps and asymmetries of their skull that has developed for a variety of reasons. These are most commonly the 'blueprint' of their skull shape determined by their genetics and shaping forces in utero during development.
Such skull asymmetries today are much more likely to be seen in men. This is due to hair loss patterns and the now widely accepted look of having a shaved head or very closely cropped hairstyles. What was once hidden by hair can be uncovered as the hair is lost, exposing the natural shape of the skull. In more significant cases the head shape can be a mixture of hills and valleys and can be a source of aesthetic discomfort for some men.
An irregular skull surface on a male historically can be a difficult aesthetic problem to treat by bone contouring methods. Between a larger scalp scar and the need to intraoperatively apply various bone cements, the aesthetic results may not have justified the surgery. But today's use of 3D CT implant designs have made skull recontouring more aesthetically pleasing.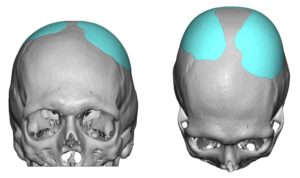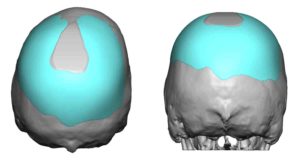 Case Study: This 36 year-old male wanted to improve the appearance and feel of his skull. He was bothered by its shape with one side being flatter than the other and the upper part of the back being flat. Using a 3D CT scan a custom skull implant was designed to make his head have a rounder and more symmetric shape. The implant was not overly thick being 5mms at it thickest portion with feathered margins around all of its edges.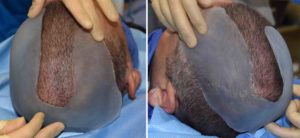 Under general anesthesia a curved 9 cm long scalp incision was made. Wide subperiosteal undermining was done along the outlines of the implant's design. The implant was able to be inserted due to its thin and flexible. Great care was taken to ensure that the implant was positioned properly and all edges were unfolded and flush with the skull's surface. Small microscrews were used to tack down and stabilize the implant.
Custom skull implants do not have to be large and are often smaller than one would think. For the patients who has some skull irregularities, obtaining a smooth skull shape often requires an implant design that is thin but evens out the outer skull contour. The use of 3D designing from a CT scan makes this possible.
Highlights:
1) Asymmetries in the shape of the skull are not uncommon and are usually due to congenital origins.
2) The male who shaves his head or has very closely cropped hair often unmasks various skull asymmetries.
3) A custom skull implant made form a 3D CT scan is the most assured way of improve skull asymmetries with the least amount of scalp scar.
Dr. Barry Eppley
Indianapolis, Indiana