Background: Augmenting skull or head shape deficiencies used to be fairly impractical. The traditional method of cranioplasty surgery involved long scalp incisions and the tedious application of bone cements to add shape to the head. Besides the scar there was a  very high rate of contour irregularities and a lack of adequate augmentation effect. This is not a particularly appealing option for many patients whose interest is in aesthetic skull reshaping where one must be careful to not tradeoff one problem for another. (large scar, contour irregularities)
Custom skull implants made from 3D CT scans have changed the entire approach to all forms of aesthetic skull augmentation. Like the use of any other preformed implant used in the face and body, small incisions are used through which a malleable implant with a predetermined size and shape is inserted. The skull is no different in this regard, it just has lacked a method to create the desired implant.
The back of the head is one of the most common skull augmentation procedures. Whether it has an overall flatness, asymmetry or a lack adequate projection and shape, custom occipital skull implants are requested equally between men and women.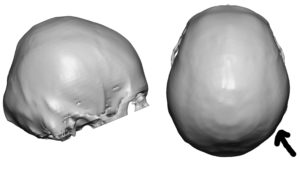 Case Study: This young male had long been bothered by a flatness and asymmetry of the back of his head. He desired some modest improvement in the overall occipital contour. A 3D CT scan showed the lack of roundness in side profile and the asymmetry in a top view.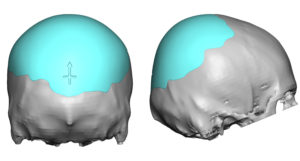 A custom occipital implant was desired to provide a better contour and make it more symmetric. His goal was a very modest thickness with the maximum projection of 6mms. An implant with much greater thickness was initially provided but he requested it be half the traditional recommended thickness.


Under general anesthesia and in the prone position, the actual implant  could be seen in its intended position when placed on the outside of his head. Through an 8cm scalp incision placed just above the nuchal line, the subperiosteal pocket was made and the implant inserted and positioned. It was secured with 2 microscrews at its base.

The immediate intraoperative view from a top view with the patient in the prone position showed how much difference was possible even with a relatively thin skull implant.
There is no doubt that the best method to reshape the back of the head, even in more modest shape deformities, is with a custom skull implant technique. Beyond the shorter incision needed to place it, getting a smooth and even contour would be next to impossible wit bone cements in a reliable fashion.
Highlights:
1)  A custom skull implant is commonly done for the back of the head.
2) A smoother and more symmetric back of the head is always a common goal regardless of implant size.
3) Thinner skull implants are easier to insert but great care must be taken to ensure their thin edges are fully unrolled.
Dr. Barry Eppley
Indianapolis, Indiana