Background:  The approach to improving the shape of the lower face has evolved beyond just chin augmentation. While the projection of the chin still has a valuable role to play in lower facial reshaping, it is not a comprehensive approach to lower facial aesthetics. The shape and size of the entire jawline must be considered.
The single most effective complete jawline augmentation method is by using a custom jawline implant design. While it is made from a 3D CT scan and fits the bone as designed, its effect comes from expanding the entire bony borders of the lower jaw.  Because it covers a broad surface area, its effect can range from a subtle to a dramatic type of facial change.
In some male (and most female) jawline augmentations the patient is seeking a more conservative change. This means that one wants the jawline to be sharper and more angular with modest chin and jaw angle size changes. This is the classic definition of a jawline enhancement as opposed to a major jawline augmentation. To do so the custom jawline implant is often smaller with thin connections between the chin and jaw angles.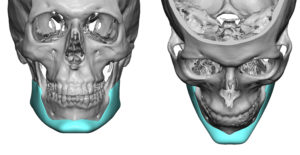 Case Study: This 35 year-old male wanted a stronger jawline but one that was not 'too big'. He always wore a closely trimmed beard which helped to create the appearance of  stronger jawline. He stated that he would continue to have such a beard after and this had to be factored into the implant's design and size.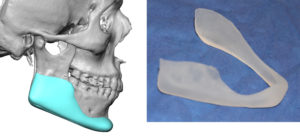 Under general anesthesia and through a three incisional method (extraoral submental chin and intraoral vestibular incisions), a custom jawline implant was placed. To prevent mental nerve injury it was placed in a midline split two-piece fashion.


His after surgery results show a subtle but evident change in the appearance of his lower face. Increased chin prominence was evident as was a more defined jawline heading back to the jaw angles on both sides.

Total jawline enhancement can be done using a custom jawline implant. Keeping the projections at the chin and jaw angle areas more modest with thin connections between these three jawline points can keep the jawline augmentation effect more limited and create a more angular jawline.
Highlights:
1) A custom jawline implant affects the entire jawline in a wrap around implant fabrication.
2) Creating three points of augmentation (chin and jaw angles) that are connected can have a powerful effect on the shape of the lower face.
3) A small custom jaw implant provides an increased angularity to the lower face witout making it too big.
Dr. Barry Eppley
Indianapolis, Indiana