Monday, July 31st, 2017
Background: The sagging of the female breast is a common sequelae to age, pregnancies and weight loss. The shape of a woman's breast is rarely a static structure over their lifetime being subject to a variety of forces that work to make the breast mound lose its shape. Stretching of the mound skin and loss of breast volume are the anatomic reasons for 'the breasts heading south'.
Correction of breast sagging, therefore, necessitates addressing the loose skin and lack of adequate volume. Various types of breast lifts combined with a large range of breast implant sizes creates options for rejuvenating the sagging breast mound.
The use of a combination breast lift and implant placement is a common breast reshaping procedure. But mixing the type of breast lift and the size of implant defies an exact scientific method to do so and not every women can get any breast implant size with their lift that they desire.
Case Study: This 34 year-old female had developed significant sagging and loss of breast volume after four pregnancies. She needed as much of a breast lift as she did that of more breast volume.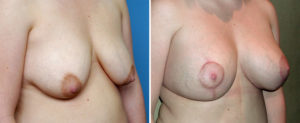 Under general anesthesia, she underwent a combined vertical breast lift with the placement of 400cc silicone breast implants. Her results shows that the size of the breast lift chosen can dictate how much of a breast lift result can be obtained.
In the combined breast lift and implant surgery, also known as an implant mastopexy, the effects of the two procedures often are at a conflict. Since a breast lift achieves its effect to some degree by skin removal and tightening and an implant exerts its effect by skin expansion, it is easy to see how combining these procedures often creates the need for compromise. For more of an uplifted and perky breast, a smaller implant must often be chosen. For larger implant volumes the amount of lifting effect will often not be as great.
Highlights:
1) Breasts lifts are often done at the same time as the placement of breast implants in certain amounts of breast sagging.
2) Large amounts of breast sagging or the desire for large breast implants may necessitate a staged approach to lifting and implant placement.
3) The use of breast implants in the sagging breasts may often be to just maintain upper pole fullness.
Dr. Barry Eppley
Indianapolis, Indiana