Sunday, January 22nd, 2017
Anatomic or tear drop breast implants purportedly offer a more natural breast augmentation result. This seems to make complete sense when one looks at the shape of an anatomic implant where it has a teardrop shape that more closely mimics a natural breast than a round-shaped implant.
In the January 2016 issue of the journal Plastic and Reconstructive Surgery a paper on this topic was published entitled 'Comparing Round and Anatomically Shaped Implants in Augmentation Mammoplasty: The Experts' Ability to Differentiate the Type of Implant'. In this paper thirty (30) plastic surgeons and nurses looked at before and after pictures of thirty (30) submuscular silicone breast implants, either round or anatomic shaped) with an average volume of around 300cc (none greater than 340cc) within the first 3 months after surgery. Among the total of 1800 observations done, the observers could only accurately identify the correct implant style 50% of the time.
While previous studies looking at the same breast implant shape issue have shown similar inabilities to identify the type of implant shape used, this is the first one that has done so in a prospective analytical designed fashion. It is well known that the round or convex form of a breast implant will change into an anatomic shape in the standing position due to both the pressure of the overlying pectoral muscle and gravity. It only re-assumes a more rounded shape when laying down just like the implant looks when laying outside the patient on a table.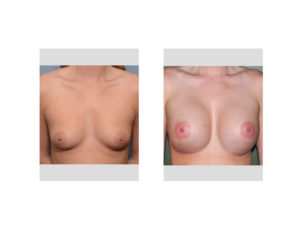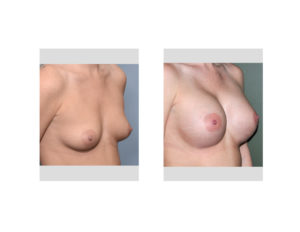 While these study results are both solid and I believe accurate, it is important to point out that its relevance is with smaller implant sizes and with them in the subpectoral pocket. Whether similar results would occur in larger breast implant sizes or in the subfascial position is open for debate. It has been my experience that in larger breast implants the effect of an anatomic breast implant is more relevant particularly in the short term. I would also have little doubt that a shaped implant would look more natural in the subfascial location.
When choosing an anatomic breast implant there should be compelling reasons to do so given their higher cost and risk of malrotation and breast shape deformation, a complication that does not exist with round implants.
Dr. Barry Eppley
Indianapolis, Indiana