Sunday, December 6th, 2015
Background: The embryology and development of the human ear is a marvel in not only its complexity but how well it works most of the time. It is created by the merging of six separate tissue segments (hillocks) in utero that create the recognizable ear that is a collection of various ridges and valleys. But due to its complex shape the ear is prone to a wide variety of congenital anomalies of which microtia is the most severe.

The opposite of microtia is macrotia where the ear is abnormally large. Unlike microtia where various parts of the ear are either missing or deformed, in macrotia the ear components are normal but bigger than desired. The ear is usually felt to be large primarily because it is vertically long. Various parts of the ear may be bigger than normal but usually the upper and lower thirds of the ear are what is too long.
The average height of the ear, as measured from the bottom of the lobule to the top of the upper helix, is in the range of 60 to 65mms. (average of 63mms) While they are some slight differences in these measurements between men and women, they are not all that different. (around 5% or less) The average length of the earlobe is around 18mms or about 1/3 of the total ear height.The average height of the pinna or cartilaginous portion of the ear, calculated by subtracting the earlobe height from the total ear height, was around 45mms.
Case Study: This 27 year male had ears that he felt were too big (long) as well as stuck out. He had seen other plastic surgeons but they only wanted to fix the protruding aspect of them. His total ear height was 76mms with an earlobe length of 24mms.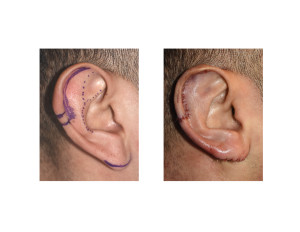 Under local anesthesia with infiltration around the base of his ear, three specific ear reshaping procedures were done. The earlobe was vertically reduced by 6mms with a helical rim excision technique. The upper third of the ear was reduced by 7mms using  scaphal excision of cartilage and outer skin with a helical rim reduction. (scapha-helical rim flap) Lastly ear was set back with concha-mastoid sutures from a postauricular incision. At the end of the procedure the total ear height was 65mms.
Macrotia ear reduction is done by reducing the height of the ear from the top (scapha-helical reduction) and bottom (earlobe reduction) simultaneously. Correction of any ear protrusion can be safely done during macrotia reduction surgery.
Highlights:
Macrotia is an aesthetically abnormal enlargement of the ear that is most manifest in the vertical dimension.
Macrotia ears usually have a combined increased height of the upper ear and longer earlobe.
3) Macrotia ear reduction surgery is done by an upper ear scapha-helical reduction flap and a helical rim earlobe reduction.
Dr. Barry Eppley
Indianapolis, Indiana