Wednesday, December 7th, 2016
Ear molding is a well acknowledged method or correcting or improving various ear shape deformities. One of its basic principles is that it must be done very early in the neonatal period usually within the first few weeks after birth. Studies have indicated that the success of non-surgical ear reshaping diminished dramatically when applied after four weeks of age.
Some congenital ear deformity patients, however, do not appear until after the first few weeks of birth for a variety of reasons. The most common reason is that they simply were not aware that such non-surgical ear treatments exist. Also they often have many other important issues that take precedence over what the ear shape looks like.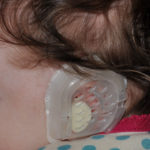 In the November issue of the Archives of Plastic Surgery an article entitled 'Correction of Congenital Auricular Deformities Using The Ear Molding Technique' was published. In this paper the authors reported on their experience in older patients with ear molding using the Earwell system. The average age of the patients was around three weeks of age with a few out to almost two months of age. Over a one year period, twenty-eight (28) ears in eighteen (18) patients were treated. The types of congenital ear deformities included the constricted ear (64%), Stahl's ear (21%), prominent ear (7%), and cryptotia. (7%) Average device application time was 4 weeks with some as long as two months. On a scale of 1 to 5, the average degree of improvement was 3.5. After one year the shapes of the ears were well maintained, the overall satisfaction score was 3.6. The only patients who did not have very good results were those that started treatment after three weeks of age.
While ear cartilage is flexible it has great memory. This is not true right after birth due to maternal estrogen levels. In the first week after birth material estrogen creates a large amount cartilage plasticity due to an increase in hyaluronic levels which temporarily decreases its memory. This is why neonatal ear molding can be effective. However this estrogen-related ear plasticity drops quickly as the maternal levels drop in the baby's circulation by seven to ten days after birth. Thus the recommendation to begin ear molding in the first few weeks after birth.
But as this study has shown and in my own experience, ear molding is not a completely fruitless treatment if started after three weeks of age. Some to good improvements can still be obtained even if started at four to six weeks of age. The results as simply not as predictable or as good if done earlier. But given the non-invasive nature of the Earwell system this makes its use even in the 'older' patient a reasonable choice.
Dr. Barry Eppley
Indianapolis, Indiana