Thursday, June 13th, 2013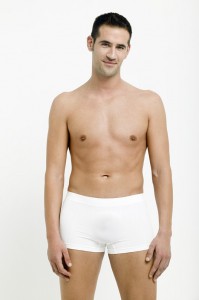 When it comes to plastic surgery, just like many other areas in life, men are different than women. Not only are their faces and bodies not the same, but their attitudes and expectations about plastic surgery are also different. Having treated a fair number of men over the years in my Indianapolis plastic surgery practice, I have made a number of observations on these gender differences.
It is true that the number of men, particularly younger men, are making up an increasing percentage of the total plastic surgery population. While the number of men having actual surgery or in-office injectable and skin care treatments will always be substantially less than women, men are noteworthy in that their procedures are either unique or require modifications. Numerous cosmetic procedures are not only uniquely different in men, but some of them are exclusive to men.
Enhancement of the male chest is an increasingly popular male plastic surgery procedure.  Chest issues are very different from that of the female breast. While women have surgery for small, poorly shaped or asymmetric breasts, men consider surgery because their chest appearance is not masculine enough due to gynecomastia, prominent nipples or lack of pectoral muscle size and definition. Gynecomastia reduction surgery is vastly different than female breast reduction surgery. Lack of visible scarring in a man takes on primary importance and the use of liposuction tissue extraction subsequently takes on greater importance. Prominent nipples, which occurs far more frequently in men than women, can have a very negative psychological effect for some men. Having them be obscure in a tight shirt is a common goal of all ages of men and this nipple reduction procedure can be accomplished as an office procedure under local anesthesia
Male chest enlargement is done by soft solid silicone implants that have to stay within the  lower and lateral borders of the pectoralis muscle. Female breast augmentation is done with non-solid filler materials in a shell (bag) that must be often be placed beyond the lower border of the muscle to get the proper shaping effect.
When it comes to body implants, the shape objectives between men and women are different. Men undergo have body enhancements, such as the chest, arms or calfs) to create increased muscle size and definition. Women have body implants of the breasts and buttock to create more shapely soft tissue curves which are non-muscular in structure.
The distribution of fat in men is uniquely different from women. Men have liposuction exclusively in the stomach and love handle areas. While women have liposuction in the same areas they have a broader expanse of potential fat collections which leads to aspirated fat removal also being done in the extremities as well as the trunk areas of the back, hips and buttocks.
Excess and loose body skin occurs more selectively in men than women. Because of pregnancies and weight loss thereafter, women frequently require tummy tucks. Men only need such excisional body contouring surgeries after extreme amounts of weight loss. (greater than 75 to 100 lbs) Those skin removal needs are almost exclusively limited to the abdomen (tummy tucks) and chest and almost never in the extremities.
Plastic surgery for men has its own unique requirements both in the type of surgeries and the demeanor of the patients. One should not assume that every plastic surgeon or plastic surgery practice is equally adept about meeting the needs of the male patient. Just like breast reconstruction for women or body contouring after massive weight loss, the male patient presents unique challenges for a satisfying surgical outcome.
Dr. Barry Eppley
Indianapolis, Indiana