Sunday, July 23rd, 2017
The width of the mouth and the flexibility of the lips are important for food intake and oral hygiene. They not only permit the lower jaw to open fully but also allow mobility of the adjacent facial soft tissues with expression. Having a 'loose' oral sphincter is taken for granted until one doesn't have that normal stretch of the lips.
Tight or contracted mouth corners occur for a variety of reasons but the most common is that of trauma. Burns, avulsive tissue loss and surgery can create scarring around the lips which can cause banding or tightness across the once flexible mouth corners. No matter how soft the rest of the lips are, loss of stretch at the corners where the upper and lower lips meet will limit oral opening and access.
Opening up or releasing the mouth corners is a surgical procedure known as a commissuroplasty. But its name does not convey exactly how it is done. There are a variety of mouth releasing procedures but most are based on scar contracture release just as is done anywhere on the body. The most well known of these would be the z-plasty,  the transposition of two triangular skin flaps. The incisions are designed to create a Z shape with the central line of it being placed with the part of the scar that needs lengthening.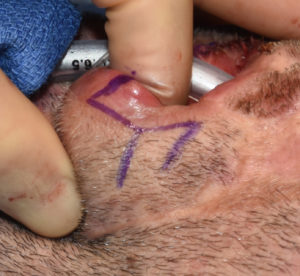 In the contracted mouth corner, however, the line of tightness is not straight. It occurs at angled intersection of the junction of the upper and lower lip lines. This requites a modification of the classic z-plasty to include a backcut at the center of the 'central' limb along the line that the mouth corner need to be extended out laterally.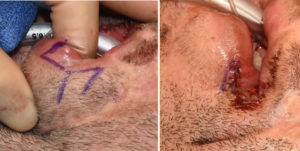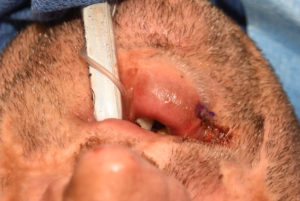 With the cutting of these flaps, the lower vermilion-mucosal flap is transposed out into the most lateral extent of the newly created corner position. The superior skin flap is then rotated along the vermilion-cutaneous line of the lower lip. Some trimming of this skin flap is usually needed. This creates an increased mouth corner position of 1 cm or more ion each side.
This type of mouth widening procedure is used in scar contracture releases. It its not the technique that would be used in cosmetic mouth widening or commissure lengthening.
Dr. Barry Eppley
Indianapolis, Indiana