Monday, March 6th, 2017
Background: While few women have symmetric breasts, it is not rare that many breast augmentation patients expect symmetric looking breasts after surgery. This common expectation has led to the plastic surgery phrase 'breasts are sisters and not twins', which is usually provided as part of the preoperative counseling.
While most breast asymmetries are caused by pregnancy and weight loss/gain and can be relatively minor, more significant breast asymmetries are congenital in origin. The breasts  simply developed differently. There will be differences in the size of the breast mounds and with that comes horizontal nipple-areolar and inframammay fold position differences.
In placing implants in more significant breast asymmetries, there is the obvious issue of implant size (in ccs) and whether two similar or different implant volumes should be used. But managing the nipple-areolar and breast fold differences is often of equal if not greater importance in some cases.
Case Study: This 21 year-old Indian female presented for breast implants. She had previously tried fat injections for breast size increase but the result was too modest. She now wanted implants to achieve a more profound breast size increase. The right breast mound was noticeably smaller with a lower nipple position and a higher inframammary fold level. Her right breast was really a variant of a constricted breast deformity.

Under general  anesthesia and through a transaxillary incisional approach, 400cc high profile silicone breast implants were placed in a dual plane (partial submuscular) position. Her postoperative results at three months a much improved mound symmetry and level of the inframammary folds. Her nipple-areolar asymmetry remained unchanged, no better or worse.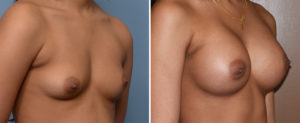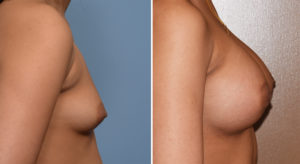 Breast asymmetries can be effectively improved by the placement of implants alone. If the preoperative differences in the breasts are not too great it is usually best to use identically sized implants.  Mound and breast fold differences can be improved but horizontal differences in the level of the nipples will not. This can be improved by either a simultaneous superior crescent nipple lift performed either at the breast implant surgery or deferred to later where it can be performed in the office under local anesthesia.
Highlights:
1) Breast asymmetry is a common preoperative finding in breast augmentation surgery.
2) Breast implants may improve or even make worse the appearance of breast asymmetry based on its anatomic basis.
3) Breast mound differences are usually improved by the placement of implants.
Dr. Barry Eppley
Indianapolis, Indiana