Wednesday, September 4th, 2013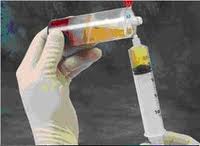 The use of platelet-rich plasma (PRP) injections epitomizes the statement 'heal thine own self'. Using a patient's blood, a platelet extract is obtained by centrifugation that can be spot injected to an area of need. Since platelets are well known to be storehouses of growth factors and cytokines, their administration into a variety of wound problems has been shown to expedite healing. Conversely, their application to many cosmetic conerns, such as aging and wrinkles, has shown inconsistent results.
Scalp hair loss or alopecia is a multifactorial issue of which genetics have been shown to be as much a factor as any other identifiable factors. There are a wide variety of hair loss treatments from topical and oral medications to light therapies to hair transplantation surgery. The void between these treatment options is an injectable approach. The concept of adding stimulatory agents to the scalp by direct injection is certainly possible but the question would be what should the injected agent be. That answer is unknown but PRP would be a logical candidate, offering complete safety with potential effectiveness due to its growth factor content.
In the July 2013 issue of the European Journal of Plastic Surgery, an article was published entitled 'Platelet-Rich Plasma Injection is Effective and Safe for the Treatment of Alopecia'. Over a one year period, 42 patients (mainly men) with androgenic alopecia had their balding scalps injected with 8 to 12 ccs of PRP. Prior to injection a hair pull test was performed. The injections were repeated five times over 2 months or every 10 days. Three months after the last injections, the results were assessed by photographs, hair pull tests and the patient's satisfaction.
Before the injections, 90% of the patients had a hair pull test which averaged 8 hairs. After the third injection sessions, the hair pull test had decreased to an average of 3 hairs. Photographs showed a significant improvement in hair density and a high resultant high patient satisfaction. Better results were seen in patients who had noticeable hair loss that was less than two years old. Mediocre results were seen in patients with advanced hair loss and marked hair loss patterns.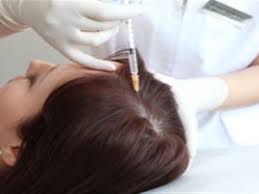 This study shows that PRP injections into the scalp are 'simple', have no real risk and have some demonstrable effectiveness for slowing hair loss and inducing some hair regrowth. Why they may work is speculative. Numerous theories abound such as direct stimulation of the hair follicles by improved vascularity to activation of adult stem cells. The reality is no one knows for sure.
It is no surprise that PRP would have some regenerative effect on hair growth. But how practical is it? It requires repeated injections and I don't think most patients would call putting 30 or 40 needle sticks into the scalp as 'simple', even though technically it is. How often and for how long must the injections be done? Although not stated, just like topical Rogaine or oral Propecia, I suspect treatments must be continued to have a maintained effect. It is not just as simple as that the injections 'turn back on' permanently the hair follicles ability for renewed regrowth. (that would require a genetic transformation)
PRP may have a role to play in hair loss treatments but papers such as this one are promising but not yet definitive on its benefits.
Dr. Barry Eppley
Indianapolis, Indiana