Thursday, October 27th, 2016
One of the fundamentals principles in rhinoplasty is the use of cartilage grafts. Since much of the nose is composed cartilage, its reconstruction or aesthetic augmentation is often done using cartilage grafts. There are three harvest sources of cartilage in rhinoplasty including the nose itself (septum), the ear and the ribs.
The septum is the most frequently harvested cartilage site because of its proximity and that it offers perfectly straight grafts. Septal cartilage grafts are not only straight but have significant structural rigidity. This makes them easier to shape and carve and apply to a wide variety of nasal implantation sites.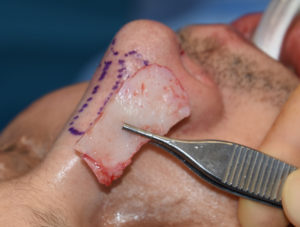 Augmentation of the dorsum of the nose is commonly done for aesthetic augmentation or correction of saddle nose deformities due to either trauma or prior rhinoplasty surgery. Septal cartilage grafts are perfect for dorsal augmentation because they are straight and can be precisely shaped. As long as one has not had a prior septoplasty it is the preferred cartilage donor site. It can offer more than an adequate amount of graft material to perform most dorsal augmentations.
This is an example of a male patient who had an over resected dorsum from a rhinoplasty that included a large hump reduction. A male that has a concave dorsal line dos usually find that to be an aesthetically pleasing nose. His original surgeon performed a nasal bone augmentation using ear cartilage. The middle vault down to the tip was left ungrafted and created a significant indentation. His septum has never been used as a cartilage donor site and served as a perfect donor site to use all the advantages of the septal cartilage for dorsal augmentation.
Dr. Barry Eppley
Indianapolis, Indiana