Sunday, February 18th, 2018
Custom jawline implants offer an unparalleled ability to reshape the entire jawline and the lower face. Combining chin and jaw angle augmentation in a connected fashion can have a powerful effect given the surface area of the lower jaw that it covers. Because of this surface area coverage even small amounts of implant thickness create an external shape change that is more than I would think.
While the appeal of such a lower jaw implant is obvious, it is not a perfect technology. The design process remains subjective since the software can not yet tell us how to design the implant to achieve any patient's specific desired look. The surgeon must provide that information to the best of his/her ability and hope the implant's shape and various thicknesses throughout achieve what the patient wants.
In addition to design considerations, just because an implant is custom designed for the face does not mean that its surgical positioning will match exactly how it was designed to fit on the bone. While this is one of the obvious surgical goals, there is always the chance of implant malposition. Custom facial implants are not like Lego blocks, they do not snap fit together. (I wish they did as it would make the surgery a lot easier) The surgeon still has to place a smooth slippery implant on a smooth bone surface under indirect vision.Through small incisions and pockets that are not fully visualized, the surgeon must position the implant. This is a lot harder to do than how the implant design appears on the 3D skeletal model.
In some patients who have had prior osteotomies (sagittal split ramus osteotomy and sliding genioplasty), the indwelling hardware is actually very helpful. The implant can be designed around or over the hardware which serves as an intraoperative guide for its surgical placement as this hardware is always seen through the incisions.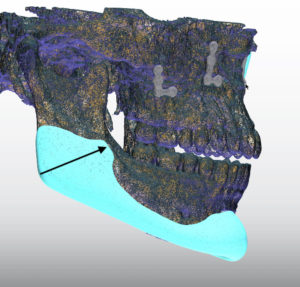 But most patients don't have these handy intraoperative guides. As a result it is very helpful to incorporate some intraoperative positioning guides on the implant's design. I do this by making an extended tab of material that goes up to the ascending ramus opposite the 2nd/3rd molar teeth. Since this can easily be seen through the posterior vestibular incision, it provides a guide as to how the posterior and inferior aspects of the angle portion of the implant is positioned in the bone. (since this part of the implant can not be seen)

Once the custom jawline implant is positioned and secured his tab of material can be removed. It is always best to have any implant material as far removed from being directly under the incision as possible.
Dr. Barry Eppley
Indianapolis, Indiana