Wednesday, May 14th, 2014
One of the greatest fears of many elective cosmetic surgery patients is the fear that having anesthesia will induce after surgery nausea and vomiting. This is most manifest in those patients that had surgery and general anesthesia before and developed exactly that…prolonged wretching after surgery. It is not the fear of surgery and pain or undergoing anesthesia but the very uncomfortable upper GI symptoms that invokes fear about the procedure in some patients.
While there are a lot of antiemetic medications that are used in surgery, from steroids to scopolamine patchs, they are not universally effective. Despite pills, patches and intravenous medications, the nausea and vomiting prone patient can still develop what he or she fears the most.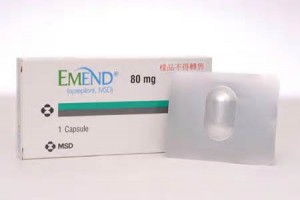 An alternative antiemetic approach is to prophylactically begin treatment hours before surgery even before the patient arrives at the facility. This is now possible with EMEND. (Aprepitant) This is an antiemetic compound that is a substance P antagonist. It has its effect by blocking the neurokinin 1 receptor. It was initially FDA-approved in 2003 to prevent nausea and vomiting from chemotherapy and after surgery.
But if EMEND is taken three hours before the actual surgery time, it can have a profound preventative antiemetic effect. This requires a prescription from your doctor and a call to the pharmacy beforehand to make it is in stock. It is fairly expensive at around $60 for a single pill and it is often not covered by insurance. But for those patients that have ever had prolonged after surgery nausea and vomiting, that is a very small price to pay for its potential prevention.
I would highly encourage those patients who have a history of nausea and vomiting problems after anesthesia and surgery to take EMEND beforehand. This would be particularly important in cosmetic plastic surgery patients where the choice to have surgery is purely elective and their biggest fear can be remedied by the ingestion of one pill beforehand.
Dr. Barry Eppley
Indianapolis, Indiana