The shape of the head is prone to a wide variety of deformational deformities. One of the most common areas for such aesthetic skull deformities to occur is on the back of the head. Lack of projection and asymmetries are the typical occipital problems that bother patients, most of which are men more than women. Having a short haircut or shaved head makes any area of the skull more exposed. Thus it is no surprise that more men undergo aesthetic occipital skull surgery than women.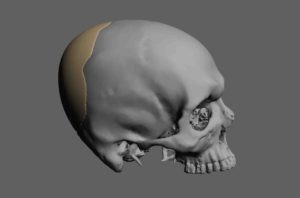 The best method to treat flatness at the back of the head is with a custom skull implant. This treatment approach offers numerous advantages over the historic use of bone cements for cranioplasty. Being made from the patient's 3D CT scan, it can create an exacting fit to the underlying bone. It can also correct asymmetries which is very common in any flatness deformity on the back of the head.
One huge advantage with custom occipital skull implants is that the maximum projection can be achieved with their use, within the limits of how much the scalp can stretch. A preformed implant can provide a larger amount of scalp push from underneath as opposed to placing a material and then trying to pull a scalp closure over it. With an incision placed away from the maximum point of projection there is no risk of after surgery wound dehiscence.
But equally relevant is that custom occipital skull implants can be placed through much smaller scalp incisions than can bone cements. Because the implant is preformed the exact footprint and thickness of the implant is preoperatively determined. It silicone composition makes it capable of being rolled onto itself and inserted trough a more limited scalp incision. Once inside the pocket it is unfolded and positioned.
Dr. Barry Eppley
Indianapolis, Indiana