Lengthening of the earlobe as one ages is both an old adage as well as a reality. Being the only soft tissue structure of the ear that is not supported by cartilage, it is prone to becoming stretched. Being on the southside of the ear, gravity is also not in its favor. This elongation effect can also become  magnified by the wearing of heavy ear rings/jewelry Big earlobes can affect both women and men and can be a source of both ear disproportion and embarrassment.
Earlobe reduction surgery is an uncomplicated procedure that can be performed under local anesthesia even in an office setting. Due to its superb blood supply, good healing always occurs and the risk of adverse scarring is very low even in patients with darker pigments.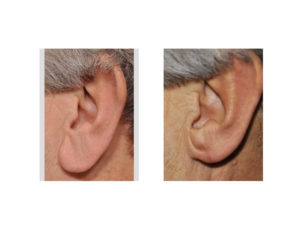 There are four different methods of earlobe reduction of which two methods dominate. The traditional method involves the removal of a pie-shaped wedge of tissue right through the middle of the ear. In bringing the now split earlobe back together it is both vertically and horizontally shortened. This leaves a fine line scar right down the middle of the earlobe. But contrary to what one might expect, this scar usually heals quite well and is barely detectable.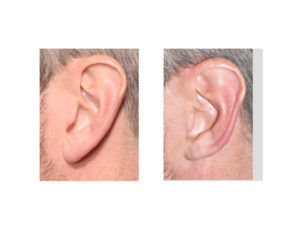 The second method is known as a helical rim earlobe reduction method. The earlobe is reduced in size by removing a curved ellipse of tissue across the base of the earlobe. The advantage of this technique is that the fine line scar is more hidden on the bottom of the earlobe. Because of its curved excisional design it also reduces the length and width of the earlobe.
One interesting aspect of any earlobe reduction technique is in how the earlobe attaches to the face. Such earlobe attachments can be direct or have an inverted V form of attachment. The relevance of that is how it affects the earlobe reduction. In the earlobe that has a break (inverted V), this attachment is not disturbed. But in earlobes with a direct attachment vertical earlobe shortening will create the need for a linear closure of the previous attachment. This creates a small vertical scar below the new level of the earlobe.
Dr. Barry Eppley
Indianapolis, Indiana