Reduction of prominent cheekbones requires some form of bone reduction. While some may think that shaving or burring can reduce the width of the cheekbones, this is largely an ineffective technique. This is because the only portion of the cheekbone that is accessible for shaving is the most anterior portion right below the eye. This is the anterior or front edge of the zygomatic body which does not have much influence on cheekbone width.
Significant cheekbone reduction requires  moving the arch portion of the zygoma inward. It is the zygomatic arch, or the connection between the zygomatic body and the temple bone that creates cheek width. This is because it is a curved bone structure even though it is a very thin bone of just a few millimeters in thickness. Its natural convex shape creates the widest part of most people's face.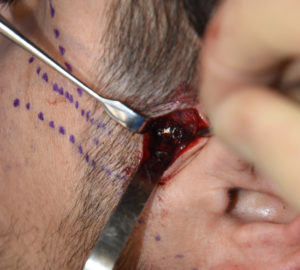 As a result of its spanning structure, cheekbone reduction surgery requires cutting the front and back end of the arch and moving it inward. The front bony cut is done from inside the mouth and often includes a portion of the zygomatic body . The back or posterior zygomatic arch cut, however, does not include the temporal bone and is done through a small incision in front of the ear at the back of the sideburn (in men) or the preauricular tuft of hair. (in females)
This direct access allows the posterior zygomatic arch to be fully visualized, cut and repositioned with small plate and screws fixation. The location of the dissection is above the path of the frontal branch of the facial nerve so the risk of injury to it is very low.
The usual amount of inward movement of the posterior arch is 5mm to 6mms which usually matches the front end of the osteotomy cut and inward movement.
Dr. Barry Eppley
Indianapolis, Indiana