Custom skull implants have become a standard technique in my plastic surgery practice for making many aesthetic skull shape changes. Prior to their use, while skull reshaping surgery was possible, it involved the use of much longer scalp incisions and the use of intraoperatively fashioned biomaterials that had a much higher rate of contour issues and need for secondary revisions.
One of the benefits of a custom skull implant is that they can be inserted through a much smaller incision to surface area coverage ratio than other materials. Because these implants are composed of solid but somewhat flexible silicone, this permits them to be temporarily deformed for insertion. Conceptually like a silicone gel breast implant, which is easily deformed to be inserted through a much smaller incision than the size of the implant would suggest, a performed skull implant similarly does so.
With the skull implant's insertion ability comes the next very important aesthetic question…how does the scalp scar look from doing so? Having seen numerous patients who have received skull implant for the face and body surgeries including some that have comeback for larger implants, I have had the opportunity to see a lot of such scalp scars both with and without hair.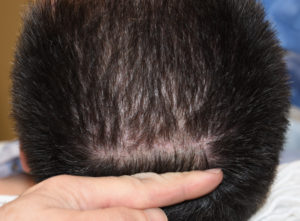 My observation is that most of these scalp scars are impressive for their very fine line and often near total or total undetectability. This does not mean that they are invisible under the closest of scrutiny but many do come close to that low level of detection particular in scalps with hair. For some even under bright lights and forced parting of the hair they can be hard to find.  A shaved head is obviously the ultimate test and many far quite well under that circumstance as well.
Such good looking scalp scars do not happen without effort and attention to detail. Prevention of follicular injury is the key with the avoidance of electrocautery and suture placement at this tissue level. It is not necessary to shave hair for any custom skull implants surgery and, while some external shafts are cut in this process, the roots of the hair remain intact.
Dr. Barry Eppley
Indianapolis, Indiana