Forehead reconstruction encompasses a variety of inlay and onlay bone procedures. Reconstruction of full-thickness frontal bone defects most commonly occurs from either neurosurgical procedures where a craniotomy bone flap has been lost or from skull bone loss due to trauma. While replacing the lost bone can be done by using the patient's own bone, this is very much like 'robbing Peter to pay Paul'. A large segment of full-thickness skull bone must be taken from another location on the skull, split into two halfs and then both skull defect sites have to be reconstructed with the bone segments.
As a result, the most common method for full-thickness skull bone loss is a synthetic material. There are a variety of implant materials available for use, but the use of 3D imaging and computer design dominates how such forehead bone reconstructions are done today. The precision fit of a 3D implant design made of a strong implant material is appealing for both surgeon and patient alike.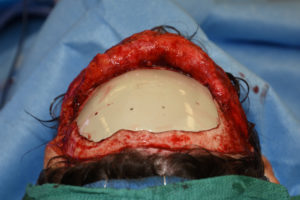 3D forehead reconstructive implants can be made of metallic titanium, HTR polymer, PEEK and PEKK materials. Using a 3D CT scan the implant is prefabricated and usually fits with little modification needed. (often no adjustments of the perimeter of the implant are needed) This is an example of a 3D  forehead reconstruction implant made from PEKK material to replace a lost frontal bone flap due to infection from a prior intracranial tumor resection procedure.
PEKK is a synthetic polymer composed of polyetherketone ketone material. It is firm implant material that has a a high resistance to fracture. In addition it has a lighter weight than other materials like titanium. Its lightweight, high impact resistance and being able to be laser sintered in fabrication make its an excellent 3D cranial implant.
Dr. Barry Eppley
Indianapolis, Indiana