Custom skull implants have become a reliable and safe method of various types of skull augmentation. Made from the patient's 3D CT scan, they cover the desired skull surface with a precise fit and a smooth outer surface that blends well into the surrounding bone/muscle areas. The most careful judgment has to be made in the thickness of its design so a competent and not overly tight scalp closure is obtained.
An obvious but often overlooked feature of most custom skull implants is that they are 'large'. They can cover a significant surface area of the bony skull. This places an implant between the thick overlying scalp and the bone. While I have never seen this to cause any problems, it would be desirous to have some increased fibrovascular connections between the scalp and the bone. Since a silicone skull implant is not naturally porous this is not a biologic property such an implant would naturally have.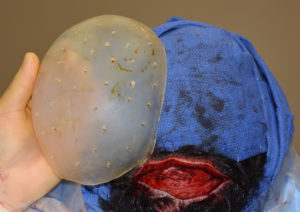 To help achieve some integration of skull implants with the surrounding tissues, the concept of perfusion holes is used. This is were many 3mm to 4mm circular holes are placed through the implant. They can be thought of as 'perfusion holes'. They will permit a very rapid tissue ingrowth through them, reconnecting the scalp and the bone with these tissue connections. They also serve to take one large implant pocket and make it many small pockets through this natural tissue quilting effect.
While these perfusion holes also help to fix the implant more securely into place, it does not make it any more difficult to remove or modify it later should the need arise. The tissue bands can be broken fairly easily in that process.
Dr. Barry Eppley
Indianapolis, Indiana