Custom skull implants have become in my practice an effective and low risk strategy for many aesthetic skull shape concerns. Compared to any other implant used above the shoulders, skull implants are comparatively large which is appropriate given the size of the skull. But a small implant just isn't going to work for many head shape augmentations as adequate surface area coverage is the key to their effectiveness.
The use of a solid silicone material is best for custom skull implants as it offers a range of benefits that no other material has. It can be placed through the smallest scalp incision because its solid form is largely foldable. Its flexibility allows it to fit to the bone on a curved surface. Of great importance is that it can be made from a 3D CT scan at a cost that is not prohibitive.
But because it is not a porous material, it becomes surrounded in the subperiosteal skull pocket by an enveloping capsule. In essence a large scar pocket exists deep under the scalp that contains the implant. While I never seen that issue alone to cause a problem in custom skull implants, I would prefer some form of tissue ingrowth to change a large single implant pocket into many smaller ones.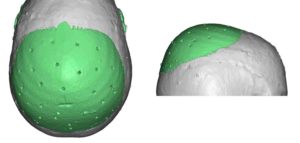 One technique to create some tissue ingrowth into a solid silicone skull implant is to make many holes through it at the time of surgery. Using a 4mm dermal punch I place many through and through holes through the implant to allow for tissue ingrowth into and through the implant after surgery. This will also allow for increased  tissue adherence of the surrounding capsule to the implant.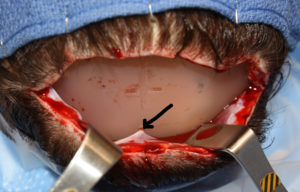 In performing several skull implant replacement surgeries (patients wanted bigger implants) the concept of placing perfusion holes has been validated. Tissue growth has been observed making the surrounding capsule adherent to the implant at these areas.
Dr. Barry Eppley
Indianapolis, Indiana