Aesthetic augmentation of the skull is most effectively done using 3D imaging technology to create a custom skull implant. By both creating an exacting fit and the desired amount and shape of the skull augmentation beforehand, surgery becomes focused exclusively on the method of placement. The consideration of the location and length of the scalp incision, ensuring adequate pocket dissection can be achieved and enabling the implant to be inserted and properly positioned becomes the surgical goals.
3D designing enables skull implants to be created that are capable of augmenting almost all of the skull. The limitations of the size of skull implants is controlled by two factors, the amount of scalp stretch to contain them and how successfully they can be manufactured. The judgment of how much the scalp will stretch to have a competent incisional closure is important and almost all very large skull implants need a first stage scalp expansion.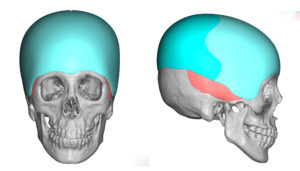 Successfully manufacturing of large silicone skull implants means that it can not exceed a surface area coverage below the equator of the skull. (basically a line around the skull at the brow bone level) When the lower implant edges turns in (at the equator or below) the implant integrity can not be assured.

To avoid a complete coronal scalp incision (which I try really hard to avoid in aesthetic skull surgery for just about any purpose), a one-piece implant can be difficult if not impossible to pass through the incisional access. (less than a coronal incision) In these cases a two-piece approach is used in the manufacture of the implant. By inserting the two pieces independent of each allows the integrity of the scalp incision to be maintained and not need to be lengthened.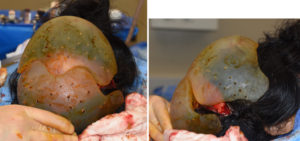 Once both custom skull implant pieces are placed into the patient, they are then assembled and sutured together to create a tight interlocking fit. Between the fit of the implant and the suture union of the two implant half, there is no benefit for any further fixation given the compression of the scalp over the implant.
Dr. Barry Eppley
Indianapolis, Indiana