The use of custom skull implants has revolutionized the treatment of many aesthetic skull deformities. Being able to precisely locate the defect and design an implant from the patient's 3D CT scan that can augment it provides an unparalleled accuracy in improving head shape contours. This is particularly effective in skull asymmetries or augmenting skull deformities where the outline of the bony contour defect can be clearly seen. But it is also equally effective in general augmentations to built out flatter skull contours.
While the value of 3D implant designing can not be under appreciated in aesthetic skull reshaping surgery, the material composition of the implant is also important. While one would think that a rigid implant that resembles the hardness of bone would be appropriate, this is actually counter productive. Such a firm implant would require a long scalp incision to insert which in many cases would need to be a full coronal scalp incision. This would be aesthetically unacceptable for many patients.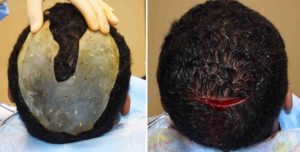 The use of a solid but flexible silicone material is of great value in custom skull implants. As the material has some flexibility, this allows it to be inserted through much smaller scalp incisions. It really is quite analogous to that of breast implants. How does a breast implant with a much bigger base diameter than the length of the incision get inserted? Because the breast implant is malleable and can be temporarily deformed to pass through a small skin hole. While custom skull implant are not deformable as they are a solid silicone material (and not a gel like that of breast implants), they have some flexibility. This material flexibility allows the implants too be bent, rolled or twisted so that it can be inserted. Once the implant is inside the larger tissue pocket, it can be manipulated into position and be unrolled to lay flat.
But because a custom silicone skull implant has some material flexibility, this does not mean it does not feel firm like bone once in place. Like wallpaper on a wall, once in place  with the backing of the bone a custom skull implant will feel just like bone.
Dr. Barry Eppley
Indianapolis, Indiana