Background: While bony bumps can appear on the skull at any location for a variety of reasons, the most classic and consistent skull bump is the occipital knob. This discrete bump of bone occurs at the base of the skull at the back of the head in the midline. It is consistent in its location because  everyone has an inion which is a rudimentary and invisible 'knob'. Why it develops more prominently in some people is not known. In my observation it tends to occur in two types of men (although not exclusively so), the bigger male with thick neck muscles and the very thin male with a more skeletonized skull and facial shape.
The most common occipital knob patient is a male who shaves his head. This is not surprising given the wide open exposure that any skull surface has in such a patient where the knob can be clearly visible. But the shaved head patient is not along being affected by a prominent knob. It can also be an aesthetic problem in patients with shorter and even medium length hair where it can still be visible or is an issue when they get a haircut. There are some patients who may even have discomfort when laying on the back of their head from the pressure of the knob on their scalp.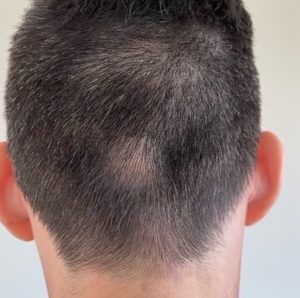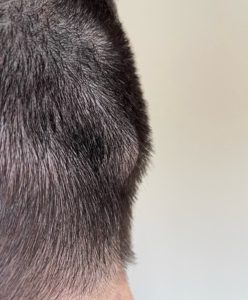 Case Study:  This thin male had a prominent occipital knob of about 1 cm protrusion. It could be seen through his hair.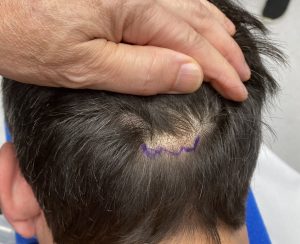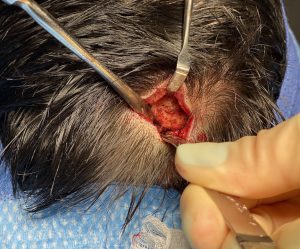 Under general anesthesia and in the prone position a 3 cm irregular scalp incision was made over the knob. Dissection down to the knob reveals, as always, that the scalp is much thicker than one would think even over the prominent knob. The knob was exposed circumferentially and particularly down over its inferior end into the neck muscles. It is important to get the knob fully exposed as it sits in the neck muscles to ensure an optimal reduction.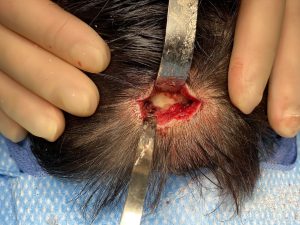 Then using a high speed drill the knob was drilled down to a contour that blended into the sides of the surrounding skull bone. In doing so it is of critical importance to protect the surrounding hair through a guarded drill shaft and an assistant whose task is to keep all the hair pushed away from the incision site. On closure some overlying deep galeal tissue was excised due to its redundancy.
Recovery from an occipital knob skull reduction surgery is very quick. The procedure is performed  in under one hour as an outpatient procedure. Returning to. normal activities can be done n a few days. Whatever swelling that occurs is limited to the back of the head.
Case Highlights:
1) Prominent occipital knobs create a visible bump even in patients with short to medium hair coverage 
2) Occipital knob skull reductions can be done in patients with hair without the need for hair removal through very small incisions.
3) The recovery time for this very discrete skull reduction is minimal. 
Dr. Barry Eppley
World Renowned Plastic Surgeon