Background:  The sliding genioplasty for chin augmentation is a well known alternative to that of an implant. It is typically done for a completely or nearly complete horizontal chin augmentation effect. This also represents the most common type of aesthetic chin deficiency.
A lesser known but also effective use of the chin osteotomy procedure is for vertical chin lengthening. Instead of moving the downfractured chin bone forward, it is moved in a completely vertical direction. This creates a wedge-shaped gap between the two bone segments whose angle of opening depends on how much central vertical opening is done. Plate fixation is done across the gap to stabilize it. Hw much bony healing occurs across the gap depends on how large the gap is and whether it is grafted or not.
It is not precisely known how much a chin can be vertically lengthened and go on to fully heal with bone. It is for this reasons that some surgeons arbitrarily limit the amount of vertical lengthening to the 5 to 6mms range. It is clear in my experience that much larger vertical lengthening amounts can be done, particularly if it is grafted with allogeneic bone blocks and chips. Vertical lengthening amounts in the 10 to 12mms in my experience heal uneventfully.
But beyond how much the chin can be vertically lengthened, the first important question is what about of elongation of the lower facial third is needed. While there are anthropometric methods to establish balance of the facial thirds, what counts most importantly is what looks good to the patient. To determine that vertical number a good technique is to have the patient open their mouth until they get the vertical chin lengthening they like. Then measure the distance between the upper and lower central incisors (adding the amount of overbite in centric occlusion) to determine the gap needed for the down fractured chin segment.    
Case Study: This male had a prior history of a vertical lengthening bony genioplasty of 5mms. While it offered improvement it was still less then he desired. He subsequently determined that an additional 7mms of vertical length ing was needed.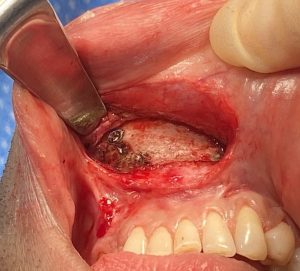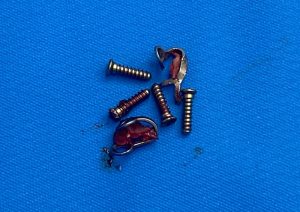 Under general anesthesia and through his existing well healed intraoral scar from is prior surgery, the chin bone was exposed and the hardware seen to have partial bone overgrowth. The hardware was removed after removing the overgrown bone.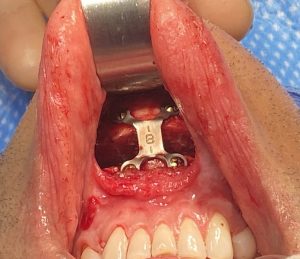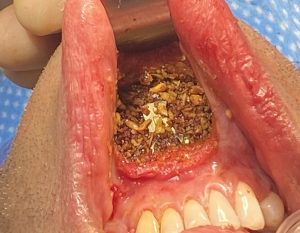 A horizontal osteotomy was done and the chin downfractured and secured by an 8mm plate. (placed so that it made the intrabony gap 7mms) The bone gap was filled hydrated tissue bank bone chips.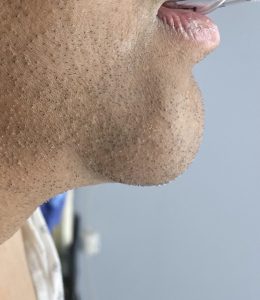 His immediate intraoperative results showed the change in the length of his chin.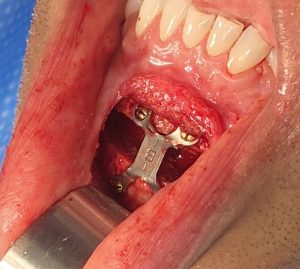 Vertical chin lengthening can be performed after a prior lengthening procedure. Such staged lengthening may be necessary when extreme amounts of vertical chin lengthening is needed. (e.g., 20mms) But it is best to get the correct amount the first time which can be determined by the preoperative jaw dropping maneuver with interincisal measurements.
Case Highlights:
1) Vertical lengthening of the chin when more than 5 or 6mms are needed is best done by an opening wedge bony genioplasty. 
2) A vertical lengthening bony genioplasty can be done more than once with good bone healing.
3) The vertical chin lengthening maneuver can be done before surgery to determine the exact amount of wedge opening needed for the bony genioplasty maneuver.
Dr. Barry Eppley
Indianapolis, Indiana