One of the major types of congenital ear deformities is that of the constricted ear. It is estimated that it represents about 10% of all congenital ear deformities. It is a variable ear deformity that has been described by multiple classification systems (e.g. Tanzer, Cosman, Ngata) with associated surgical strategies based on its classification. The numerous classification systems can be confusing and it is not easy to always define what type of surgery is best for the variable presentations in which the constricted ear is seen.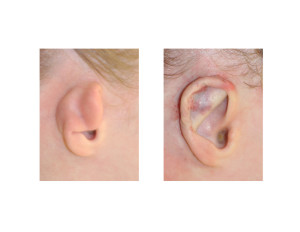 In the May 2016 issue of Plastic and Reconstructive Surgery, a paper was published entitled 'Classification and Algorithmic Management of Constricted Ear: A 22-Year Experience'. Over 160 ears that had a lidded helix, compressed scapha and triangular fossa and an overall cuplike appearance were used as the clinical material for the study. The authors classification system uses a antihelical tubing test and a scapha-helix push test. By these two methods four types of contricted ear are identified. Type 1 constricted ears can be treated by an antihelical tubing procedure using horizontal mattress sutures placed on the backside of the ear. A type 2 constricted ear was treated by  tumbling concha-cartilage flap combined with a mastoid hitch suture. In type 3 constricted ears an antihelical wrapping technique using a free floating rib cartilage graft was used. In type 4 constricted ears where a shortage of helix exists, a helical expansion technique using a rib graft and preauricular and scapha skin flaps was used.
Based on their experience the authors have evolved to the following concepts for the constricted ear. First, waiting to age 12 or older allows for better results. Second, the existing cartilage framework was not sectioned but rolled and grafted to prevent unnatural shapes. Third, rib grafts are better than ear cartilage grafts for helical expansion. Lastly, the protruding part of the constricted ear is often overlooked and needs to be corrected by mattress sutures and/or mastoid hitch sutures.
The constricted ear and microtia have some overlap in their features. What separates them surgically is that in the constricted ear the existing cartilage framework is maintained and cartilage and soft tissue flaps are added to it. In microtia, the existing framework is unusable and has to be replaced. This paper provides an effective surgical strategy for the constricted ear that allows for a single stage correction without removal of any of the existing ear framework
Dr. Barry Eppley
Indianapolis, Indiana