Monday, August 25th, 2014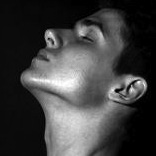 Background: The ideal male jawline is seen as strong and chiseled…at least by most men.  (some women may prefer a softer jawline which creates a more nurturing appeal) For those men that do not have it, implants can be used to create a stronger or more pronounced jawline. While once traditionally seen as simple chin augmentation, today's facial implants now incorporate jaw angle implant designs to change the back part of the jaw as well for a more complete or total jawline enhancement.
For many men the use of standard chin and jaw angle implants, through a three-point augmentation approach, can create the desired jawline improvement. With a three implant approach, however, the sides of the jawline may remain deficient since there may not be a direct connection between the chin and jaw angle implants. Also three implants placed individually runs the risk of implant asymmetry since they are not connected and their position must be 'eyeballed' for placement as they relate to each other. There is also the limitations of jawline changes based on the sizes of existing chin and jaw angle implants.
All of the existing potential problems with standard jaw implants can be overcome by the use of a custom-designed jawline implant. By making a single piece wraparound implant, the entire jawline can be augmented in just about any dimensions that one wants and the overlying soft tissues can tolerate.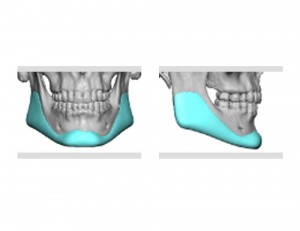 Case Study: This 23 year old male wanted to have a more masculine jawline with a stronger chin and jaw angles. By using computer imaging, it could been seen that the look he wanted was more of a total wrap around effect that just augmentation of the chin and jaw angle areas. By using his 3D CT scan, a wrap around jawline implant design was done creating a more square chin, prominent jaw angle flare and a smooth connection between the front and back part of the jaw.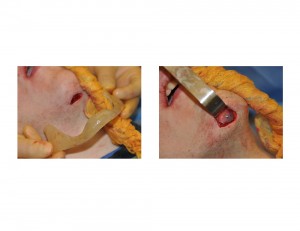 Under general anesthesia, a small (2.5 cm) submental incision was made behind his existing skin crease. (accounting for a forward rollout of the incision which will always occur. Subperiosteal dissection was done over the entire chin and back along the jawline to the angle with special long-handed dissectors. This was combined with two posterior vestibular incisions to expose the jaw angle. The implant was folded and tunneled into position from the submental incision. The positioning of the jaw angle sections of the implants was checked through the intraoral incisions to ensure good seating over the jaw angles. A single microscrew was used anteriorly but the fit over the jaw angles was so good no screw fixation was felt necessary.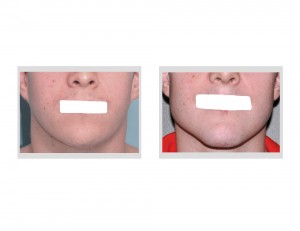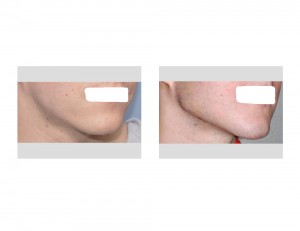 This is his result just 10 days after surgery. While these is still some slight swelling and tissue 'stiffness', his face/jawline looks very acceptable at this early point that he could pass as not being obviously 'surgical'. His jawline shows improved definition and now has more of a classic strong male jawline that has much more angularity to it without being too big or overdone.
Male jawline enhancement is optimally done by a custom wraparound implant if one wants a total change to the entire jawline that appears connected throughout the implant. It is also the only implant approach that will work if one has more extreme dimensional needs that standard implants can not achieve. While the cost of a custom jawline implant is more than that of standard implants, the difference is not as great as most would think. The custom aspect of the implant also lowers the risk of revisional surgery as the shape and location of it along the jaw is determined prior to to surgery in the computer designing process.
Case Highlights:
1) Complete jawline enhancement involves a total change to the entire horizontal portion of the lower jaw in a 'wrap around' fashion.
2)  A custom jawline implant is made from a patient's 3D CT scan and incorporates changes to the chin, jaw angles and the jawline between them in the desired dimensional changes.
3) Due to the flexibility of even a large silicone one-piece jawline implant, it can be inserted through a small submental skin incision conbined with two intraoral mucosal incision to check for posterior positioning.
Dr. Barry Eppley
Indianapolis, Indiana