Friday, October 25th, 2013
Background: An underdeveloped jaw or mandible has been historically treated by chin and jaw angle implants. A chin implant enhances the front part of the jaw while jaw angle implants augment the posterior part of the jaw. While these types of facial implants are tremendously effective at augmenting the two obvious prominences of the jaw, they neglect the intervening part of the jawline between the two of them known as the body area.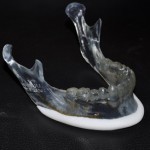 The mandible is a unique facial bone to aesthetically augment because it is a long curved bone that wraps around the lower face. No off-the-shelf implant currently provides a wrap-around augmentative effect of the entire jawline. Such an aesthetic need exists to make the entire jawline more pronounced and would be of value to make jawlines larger from a side-to-side standpoint. Because silicone is a very flexible material, a wrap around jawline implant could be used for just about any jaw shape and could be inserted through a very small incision.
Case Study: This 33 year-old female was having a skull reshaping procedure and wanted to improve her mildly weak chin as well. She felt her overall jawline was weak and not just her chin area but she did not want her jaw angles to be any bigger or flared. Her horizontal chin deficiency measured only 3 to 4mms in projection.
A new uniquely designed jaw implant was selected for her known as a jawline implant. It is essentially a very long and thin extended chin implant that extended back to the jaw angle area creating a wrap around effect along the inferior border. While the chin projection of the implant was 4mms, it tapered back along the jawline to a 2mm feathered edge. Because of its thin and long design, the stiffness (durometer) of the silicone material was stiffer than that used in other facial implants. That extra stiffness prevents the back tail of the implant from folding onto itself on insertion.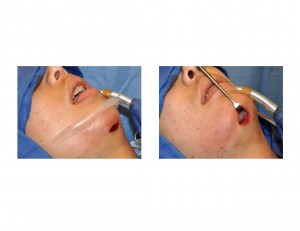 Under general anesthesia, a small 2cm submental incision was made down to the bone. A long extended periosteal elevator was used to make a long and narrow tunnel for the implant back along the lower edge of the jaw (inferior border) to the jaw angles. The implant was folded in half and inserted through the incision with both ends of the implant directed into their respective sides of the tunnels. The implant was easily slide into place and the central chin part of the implant was sutured into place to prevent migration. (although with an implant this long there really could not be an migration or displacement.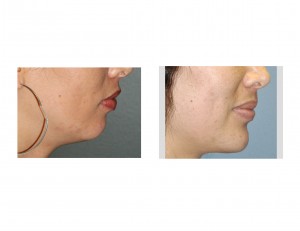 The jawline implant offers a new type of jaw augmentation implant that is uniquely different from the chin and jaw angle styles. By making the jawline more distinct and adding some slight width, it makes a more prominent jawline in a subtle but aesthetically pleasing manner. It is not designed to create an overpowering jawline augmentation but a subtle enhancement.
Case Highlights:
1) A more defined and distinct jawline is a desireable feature for both men and women and is the result of a more defined inferior border of the mandible.
2) A jawline implant is different than other jaw implants such as a chin or jaw angle implants as it accentuates the mandibular inferior border from the chin back to the jaw angles.
3) Jawline implants can be used alone to enhance a mildly weak jawline or as an additive benefit to facelift surgery.
Dr. Barry Eppley
Indianapolis, Indiana