Monday, September 21st, 2015
Facial implants offer a permanent solution to many desired areas of skeletal augmentation such as the chin, jaw angles and cheeks. There are many factors that go into a successful facial implant augmentation outcome from the preoperative planning, style and size of the implant, implant placement and last, but not least, implant stability. Prevention of facial implant displacement is the last step in the surgical process but is by no means the least important.
Many a facial implant surgery has been marred by implant displacement and positional implant asymmetry. Surgeons have numerous techniques for stabilizing facial implants from pocket control, suture fixation and external facial bolsters or dressings. While all have their merits and advocates, there is only one fixation method that provides absolute assurance of implant stability…that of screw fixation. Screwing the implant to the bone with one or two screws (to prevent rotation in some cases) guarantees the implant's position on the bone surface.
When screws are mentioned to patients for their facial implant(s) surgery they almost always have two concerns. First they think of screws as being large like those used in orthopedic surgery or woodworking. Secondly they are concerned that the screws may set off metal detectors due to their size and composition.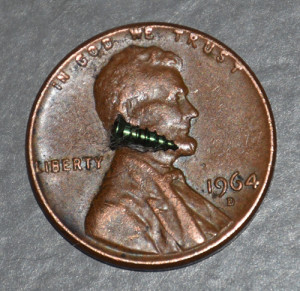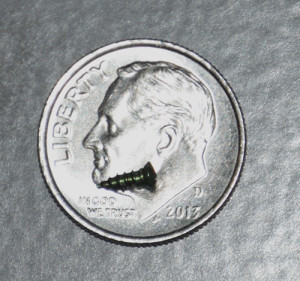 In reality facial implant screws are very small and are better referred to as microscrews. They are of the dimensions of 1.5mm in diameter and are not greater than 7mms in length. I often refer to them as the size of the screws in eyeglasses. But to put that in better perspective it is helpful to see how they look on a penny or dime. On either Lincoln on the penny or Roosevelt on the dime, the microscrew takes up no more surface area than the length of either of the President's jawline.
As for concerns about metal detection, it is important to realize that these microscrews are composed of titanium. Unlike an alloy like stainless steel, which all common screws are made of, titanium is nearly a pure metal. (atomic number 22 and Ti on the Periodic Table) It has a high strength, is corrosion resistance, and is non-ferromagnetic. It is the metal of choice for craniomaxillofacial bone fixation and for dental implants due to its superior properties over stainless steel. In short, titanium screws will not set off any alarms or metal detectors.
The use of titanium microscrews for facial implant fixation is both safe, effective and are so small that they are virtually undetectable.
Dr. Barry Eppley
Indianapolis, Indiana