Saturday, January 11th, 2014
Facial augmentation can be done by either temporary injectable fillers into the soft tissues or permanent implants placed down on the bone. Such materials causing a change in the external shape of the face in the area treated but its exact change can not be precisely predicted. While computer imaging can try to create the change caused by these facial volumizing procedures, it is still an estimate.
When it comes to the placement of facial implants, there is much more of a commitment due to the surgical process. Some patients may feel more comfortable having a test or trial volumization procedure done prior to the actual surgery. While the most common method for a facial implant trial would be any of the commonly used injectable fillers, for a few select patients the length of their duration may be too long. (months)
Another type of injectable filler that can be used that is very short-term (hours) is that of saline. Saline injections, which are a mixture of water and salt, are used for variety of medical purposes. The most common use for a saline mixture is for intravenous infusions for hydration, mixing it with medicines to make an injectable solution and as over the  counter nasal sprays and contact lens cleaner. Additional but less common uses for saline injections are for spider vein treatments, acne scars and some very unusual types of body modifications.
Saline is often called Normal Saline (NS) or isotonic saline as a solution of 0.9% of sodium chloride (NaCL) created by dissolving 9 grams of NaCL in 1000ml of water. (for those who like a kitchen analogy that would be 1.6 teaspoons of salt) Normal saline contains 154mEqL of Na+ and Cl- and has only a slightly higher degree of osmolarity than blood. A 0.9% concentration is often presumed to be the sodium concentration in human blood which is inaccurate  since it is closer to 0.6%.
Saline can be injected very safely into the face in any location that would be typically augmented for increased volume. By using a microcannula technique it can be done painlessly. However, saline solutions have some degree of acidity (ph of 5) and may be associated with sight burning on injection. This can be remedied by adding a touch of sodium bicarbonate or using a more ph-balanced solution like Lactated Ringer's. (LR)  The volumes adds to create a facial effect are greater than what one experience with traditional injectable fillers due to their higher viscosity. Saline or LR is absorbed quite quickly and will usually be completely gone in less than four hours.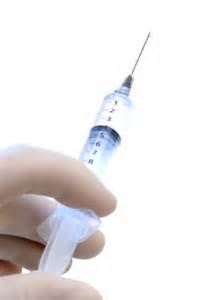 The purpose of saline injections is to give the patient an immediate facial volumizing effect so they can see if augmentation of a facial area is aesthetically beneficial. When requested by a potential facial implant patient, it can make the patient feel more secure about a surgical decision for implants. This is particularly true in cheek and orbital rims implants where insecurity about that area of facial augmentation is often most uncertain.
Dr. Barry Eppley
Indianapolis, Indiana