Sunday, August 17th, 2014
Fat injections have tremendous popularity due to their autologous (natural) source, ease of graft procurement and ability to place the graft in a scar-free manner. While fat graft retention is far from assured, they have been used in a tremendously diverse number of applications where more soft tissue volume is needed.
One such unique application of fat grafts is for forehead recontouring. Historically this is a facial bony augmentation location where applying bone cements or implants is needed to create an outward effect. But surgical incisions are needed, usually in the scalp, for these aesthetic surgeries and that may be more of a scar burden that is worth it to some patients and for some forehead augmentation needs.
One relatively minor aesthetic forehead concern is the presence of or an overly deep brow bone break. Usually seen in men as a masculine feature this is caused by prominent brow bone development (technically frontal sinus growth) that extend out further than the plane of the forehead. This causes an obvious horizontal line of demarcation between the contour of the brow bone and the forehead above it.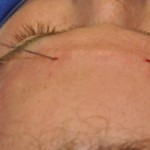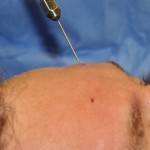 The brow bone break can be softened or eliminated by fat injections. It is important to use highly concentrated fat and inject it in a microdroplet technique using the smallest microcannula. This is done through small nick incisions created by a 20 gauge needle along the horizontal break line. Two layers are placed, one above and the other below the galea. This careful and discreet fat injection technique is easy to do since the volume administered is usually less than 5ccs.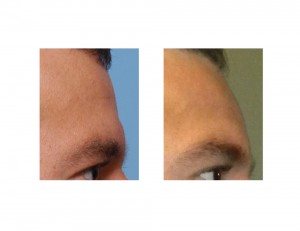 Small volumes of fat carefully placed can be an effective technique for brow bone break reduction/elimination. Given that the aesthetic problem hardly justifies a more extensive operation, this fat injection technique can be a minimally invasive and sustained forehead recontouring method.
Dr. Barry Eppley
Indianapolis, Indiana